The Psychotic Love Of Competition – Image Comics At Thought Bubble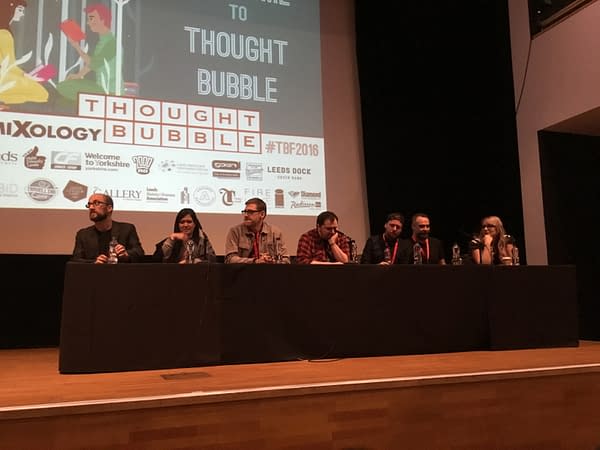 Eric Stephenson, Kieron Gillen, Emi Lenox, Jeff Lemire, Declan , Cameron Stewart, Brendon Fletcher and Babs Tarr took to the stage at Thought Bubble in Leeds today.
It was last year that Fletcher, Stewart and Tarr they first started discussing together about going to Image Comics with their new comic Motor Crush, keeping the team together after their work on Batgirl at DC was canned.
Cameron Stewart talked about what he diplomatically described as "much less editorial input" at Image. Babs Tarr defining the challenge at DC as being the limitations while the challenge at Image is the freedom. Stewart was also called upon to pitch their Motor Crush comic, which he did so as a soft sci-fi action adventure comic in a world where bikers are the celebrity sports stars, but the lead also engages in street battles over a drug called crush – for motorbikes. I will have more to say about Motor Crush on Monday morning, pop by…
The question was asked, when did Declan Shalvey start working on Injection with Warren Ellis, before or after his work with Warren on Moon Knight? Another diplomatic reply, "as far as Marvel knows, afterwards. I loved working on Moon Knight with Warren, basically Marvel do whatever Warren wants… it's great to read the e-mails… Marvel really love Warren. " But after having a taste of this kind of editorial freedom, he wanted more of it not less, hence his move to Image. He knew every other book he took wouldn't be the same. "I was in the Marvel offices a while ago and was asked if I wanted to do this and was able to say, no, I'm doing my own book. It's the best feeling." He also geeked out about designing Injection's bar code. "It's the smartest thing I ever did." The move, not the bar code design I think, although you never know. And, yes, he also did some Batman work for DC, "hopefully that will help selling Injection." He also enjoyed the lack of fill-in artists. "I've rarely gotten the chance to do a book that's all me. It's not where I want to be anymore."
Jeff Lemire talked AD, how it changed from a graphic novel, to three prestige format books. "When Scott Snyder approached me, it was going to be a 20 page one-shot we'd do on the side, then it got bigger… The story evolved into three parts, we decided on publishing it in three 80 pages stories, and we'd get some momentum on it by serialising it."
Emi Lenox talked about pitching Plutona "it involves death and creepy kids and Jeff said 'yes!'" and how Image are receptive to friends working together, as well as her upcoming book Tadaima about revisiting her family in Japan, life, death and the situations that made her cry.
Eric Stephenson asked Kieron Gillen "why comics?" quite deliberately to provoke him. Gillenrevealed that the French press never asked him when he was going to do a Marvel book, and described how interviews in newspapers treated them like authors. Elsewhere they ask "why comics?" Though Gillen's answer is "Image is 'why comics'". Image is his natural home, but he feels he can't pitch a fun pop book to Image, it has to be worthy for Gillen or "slightly wanky" and how that kind of thinking informed the current journalist interview issue of The Wicked + The Divine. He talked about "the cage", of what is expected of comics and how he tries to challenge that, also citing Hickman's Black Monday Murders as breaking out of the cage and that Image is a place that those questions and assumptions can be asked and challenged.
Declan Shalvey has pointed out that other publishers are getting more Image-y and how creators are being hired after having worked on an Image comic are being asked to do something with greater freedom than if they'd come up through the usual ranks.
Cameron talked about how their team are working in a more dynamic and fluid way on Motor Crush than they could have done on Batgirl at DC. Brendon talked about how Babs critiqued the script and edited the comic after creation.
Shalvey talked about a different experience, his interest in how the story is told rather than the idea itself. Gillen has similar experiences with Jamie McKelvie, saying he has barely any input into the story, but into how it is told, everything. But that McKelvie does have a veto that he used very occasionally. Shalvey commented "I just feel that Warren is trying to f-ck me over. Here's a thing, you go figure it out." But that Warren asked Shavley to tell him everything he liked, and then wrote Injection to suit that. Gillen says how scripts are love letters, from one person to another, to induce ardour, and artists are better when they are happy. "I view my job to make everything as easy for the artist, except for the work."
Gillen talked writing when you don't know who the artist is, as being bland and safe. Cameron and Brandon, went through Babs Tarr's Tumblr posts to write for what she had already been drawing. Cameron says "the pages I did not enjoy drawing are the pages that suck."
Jeff Lemire also talked about how his upcoming solo book Royal City is different, "it's all my handwriting on my page, there's no dialogue that has to happen that isn't in my head, it's very freeing and relaxing."
Shalvey talked about how Image let them make "signature pieces".
Eric Stephenson used Saga as an example of giving artists breaks between arcs, so it's not a treadmill, and how that separates them from other publishers. And Shalvey talked about how that had trained the audience to be patient.
After talking about the history of Image, Shalvey described them as "a curated printer" and Stephenson talked about how he gets rankled when Image creators call him "boss". Kieron says he does that to annoy Stephenson . And Tarr talked about how Stephenson asked them to take "Image Comics Presents" off a poster because it was their book. Gillen sees Image as an analogue of Factory Records, Stephenson insisting this was "in both good and bad ways".
But they also inspire each other to do different, better work. Shavley said reading Descender really pissed him off when he was making Injection, Lemire said Descender came from him feeling the same way when reading Saga. Gillen called his version of that drive psychotic. In his demented head, back in the day, there were two books in the world, Casanova and Phonogram, Matt Fraction was the golden American boy and he was Doctor Doom, a really bitten European, and wanted to be at least that good or better.
While Emi Lenox, far more sanely, was glad to see a book like I Kill Giants do well, because while it's not her style, it inspires her that her own style has a chance of being accepted and succeeding at Image Comics – and in the market as a whole.
Guess what folks, they all really like being at Image…
To see other coverage from Thought Bubble over the show, click here.