They Don't Make Hulks Like They Used To – Dead Man Logan #10 [Preview]
There's just three more issues left for Old Man Logan to live as we get a preview of next week's Dead Man Logan #10. In the previous issue, the sanctuary Logan had brought Dani Cage and Bruce Banner Jr. to, run by Forge, was under attack by Sabretooth and his Mad Max army. The team could probably use all the help they can get, but Dani doesn't want Hulk Jr. to get involved, asking him to stay behind and read books instead… even if Hulkie does want to smash.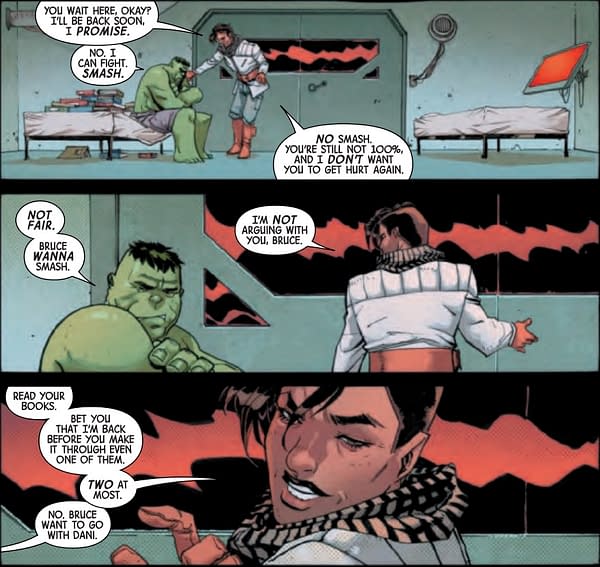 But when Sabretooth and his gang of Sabretooth clones do make their way inside the facility, all it takes is one tiny tranquilizer dart to take Bruce Jr. out of the equation. There's no way his dad would get taken down so easily!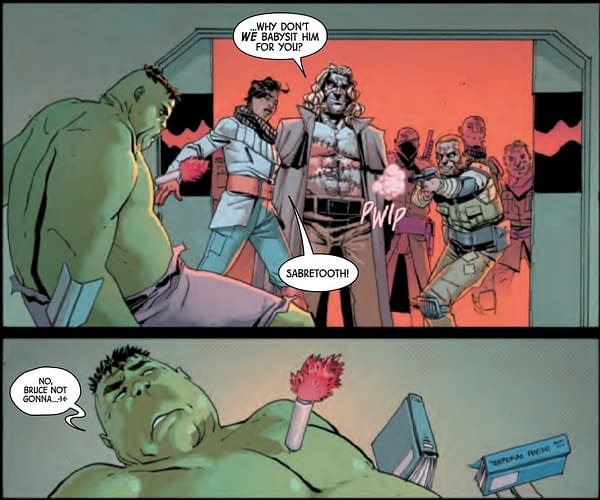 Clearly the message of this comics is that reading is bad for your health and fortitude. We can't say we disagree. You're reading this article right now, and it's making you weaker and dumber by the second! Of course, that may say more about us than you…
At least Dani is ready to put up a fight. She must not read much at all.
Dead Man Logan #10 hits stores on Wednesday.
DEAD MAN LOGAN #10 (OF 12)
JUN190997
(W) Ed Brisson (A) Mike Henderson (CA) Declan Shalvey
TEN DEGREES OF EVISCERATION!
Logan's oldest foe is back from the shallow graves Logan put him in! And he aims to repay Logan in kind…
Parental Advisory
In Shops: Aug 07, 2019
SRP: $3.99