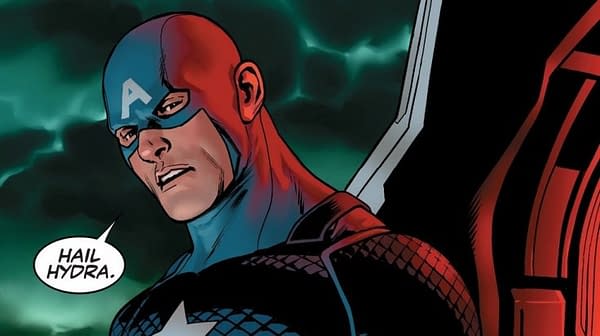 I had thought, just like the Death Of Captain America, that they would stretch this story out for a few years, before delivering some kind of resolution.
The "Hail Hydra" last page reveal of last month's Captain America; Steve Rogers #1 caused such a reaction that you could see the dollar signs spin in the bean counters eyes. And advance reorders on Captain America: Steve Rogers #2 rocketed on the back of mass media coverage and controversy.
I mean, he's still not gay.
But issue 2 of Captain America; Steve Rogers will spill the beans. Give away the farm. Let you in exactly what's going on and the reasons behind it all.
So when Chris Evans asked…
Hydra?!?!? #sayitaintso

— Chris Evans (@ChrisEvans) May 26, 2016
.,..this week, he will get his answer.
And so will you. As well as the Red Skull reading a very special bedtime story…
Enjoyed this article? Share it!