Last weeks Catwoman 80th Anniversary Special ran Selina Kyle through many versions of herself. That included a trip courtesy of Tom King, Mikel Janin and Jordie Bellaire to a version of her life seemingly abandoned by DC Comics (at least until the Batman/Catwoman series comes along – maybe Christmas if you're good). One that also tied in with Tom King and Lee Weeks' Batman Annual #2 story, that told the first days of Batman and Catwoman together, to their last, and the death of Bruce Wayne. Along the way, we also met the new Batwoman, daughter of Bruce and Selina.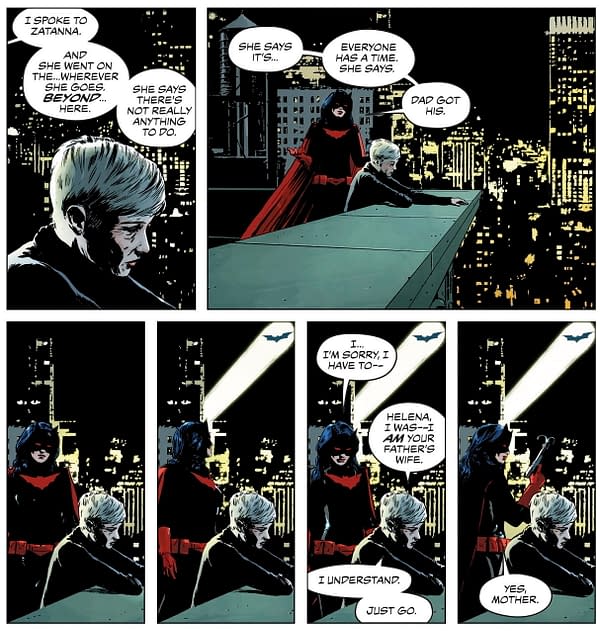 Helina, also known as Huntress. The new episode is titled Helena. And we get to see her in her first days. In the cutest of Batonesies. To Damian, a step-sister.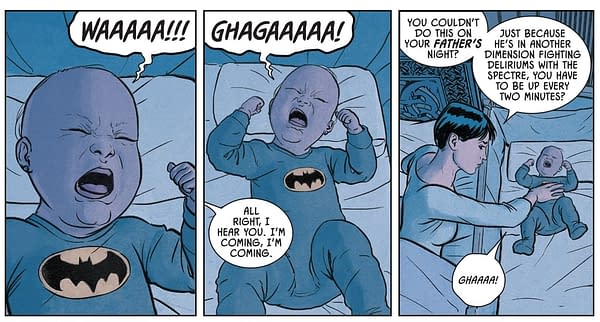 And just as Batman Annual #2 saw the late autumn of Bruce Wayne's life…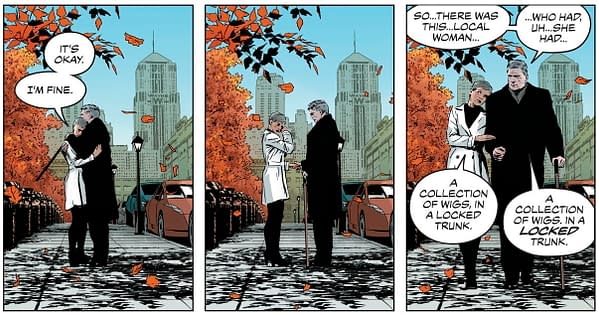 So Catwoman 80th Anniversary shows the days after his death, with a similar colour scheme for Selina.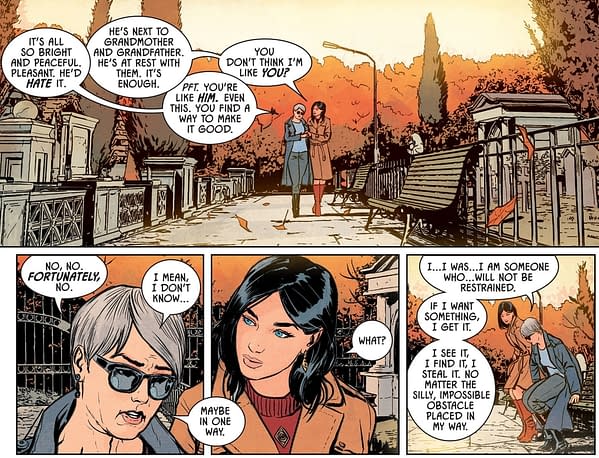 Tom King says that Batman/Catwoman will continue the love story of Bruce and Selina that was meant to run up until Batman #104 or so, with Big Changes for the characters. It is also meant to go somewhere that permission had to be sought for, from the very top. Could Batman and Catwoman and Helena Makes Three have been where this story was originally headed? And has Tom King managed to sneak it in to the 80th anniversary? No matter the silly, impossible obstacle placed in his way?
CATWOMAN 80TH ANNIV 100 PAGE SUPER SPECTACULAR #1
(W) Ed Brubaker, Paul Dini, Tom King, Ann Nocenti, Mindy Newell, Will Pfeifer, Others (A) Cameron Stewart, Mikel Janin, Adam Hughes, Emanuela Lupacchino, Steve Rude, Jim Balent, Tula Lotay (CA) Joelle Jones
Our gal Catwoman is turning 80 next year (and looking very good, if we meow say), and DC is celebrating with nothing less than with a huge soiree, invite only, packed with creators who mean the most to her and to whom she means the most! Stories featured in this 100-page spectacular include a tail-sorry, tale-that takes place at the end of the Brubaker/Stewart Catwoman run, in honor of artist Darwyn Cooke. Plus, Catwoman is caught by an exotic cat collector, runs into a wannabe thief trying to prove himself as her apprentice, encounters a mystery involving memorabilia from alternate continuities, and of course some Bat/Cat fun.In Shops: Jun 03, 2020 SRP: $9.99
Enjoyed this article? Share it!