Tom King & Daniel Sampere Relaunch Wonder Woman #1 for Dawn of DC
Tom King, Daniel Sampere and Tomeu Moray are relaunching a new Wonder Woman #1 for Dawn of DC, following a Wonder Woman #800 finale.
---
Just as The Flash #1 is relaunching in September for Dawn of DC, so Wonder Woman #1, from Tom King, Daniel Sampere and Tomeu Moray, will also be relaunching in September (or July, DC isn't too sure it seems). "After a mysterious Amazonian is accused of mass murder, the U.S. Congress passes The Amazon Safety Act, barring all Amazons from American soil. To carry out its new law, the government sets up the Amazon Extradition Entity (AXE) task force to remove those who don't comply by any means necessary. In her search for the truth behind the killing, Wonder Woman now finds herself an outlaw in the world she once swore to protect."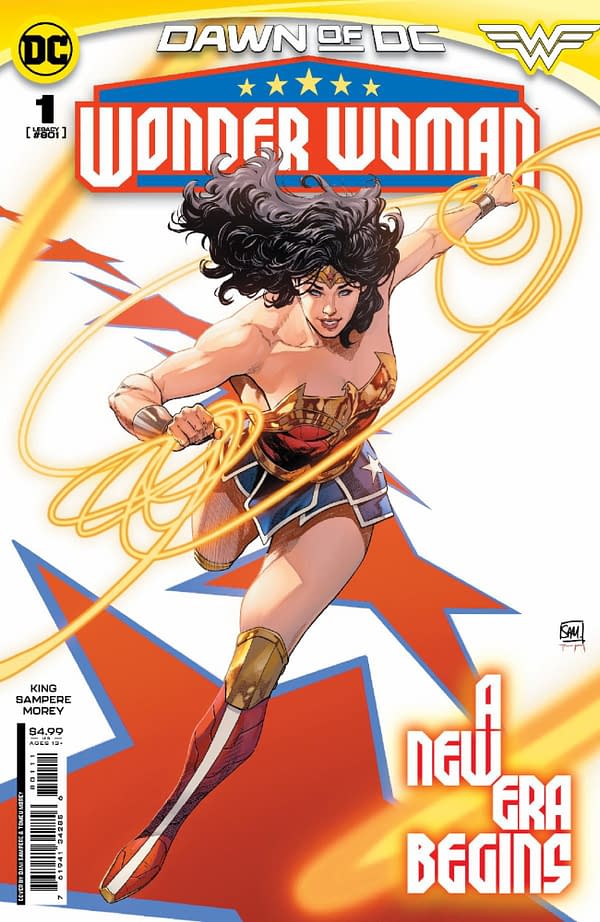 Tom King is best known in comic books for his 85-issue run on Batman, and follow-up Batman & Catwoman series, the Heroes In Crisis event, as well as his twelve-issue puzzle box comics such as The Vision, Omega Men, Danger Street and Human Target. Daniel Sampere is best known for Action Comics, Batgirl, Green Arrow, Dark Crisis and the Injustice comic book series. Tomeu Morey has become known as one the first superstar of comic book colourists after his recent work on Batman.
Tom King tweeted out "HUGE ANNOUNCEMENT: @Sampere_art and I are coming on to the ongoing Wonder Woman title, starting with a game changing story in WW 800 and then launching into WW #1. Our goal is go big, go epic and give you a Diana true to her legacy: a warrior, a legend, a rebel, an inspiration." Daniel Sampere followed with tweets, "Finally! I'm thrilled to announce that we are working on the new WONDER WOMAN run for Dawn of DC! I have the honor to be working this time with the masters @TomKingTK and @tomeu_morey ! We are cooking something else. This is going to be a blast!" He also added "Wonder Woman special #800 variant cover by me and colors by @tomeu_morey Our run will be full of visual references from the 70's Wonder Woman Tv Series and I wanted to start with a small tribute! I hope you like it!"

Because Wonder Woman #800 will now feature a prelude to this story from the new team, as it concludes the current Becky Cloonan/Michael Conrad run on the series. "The princess of Themyscira is reaching her 800th issue on June 20, and the epic storyline from Becky Cloonan (Trial of the Amazons) and Michael W. Conrad (Batgirls), "Whatever Happened to the Warrior of Truth?," is coming to a conclusion! Diana's visions become more vivid as she finds herself trapped in the dreams of those around her. As she struggles to escape, her life as Wonder Woman hangs in the balance. When the dust settles, will she still be the Amazons' greatest champion? Wonder Woman #800 is written by Becky Cloonan, Michael W. Conrad, and Tom King (Supergirl: Woman of Tomorrow) with artwork by Joëlle Jones (Catwoman), Jen Bartel (Wonder Woman), Daniel Sampere (Dark Crisis on Infinite Earths), and others."