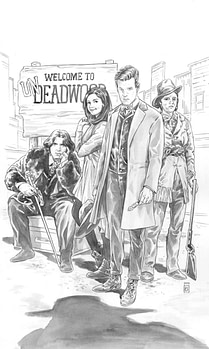 At the IDW panel at MCM London Expo, it was announced by editor Dirk Wood that Tony Lee will indeed be returning to the Doctor Who comic in September as we surmised, replacing Andy Diggle for a four part story called 'Dead Man's Hand' that runs from issue #13, through the 50th anniversary period.
According to Tony Lee it involves the Doctor and Clara visiting Deadwood in 1882, and has guest stars Oscar Wilde, Calamity Jane and Thomas Edison in an adventure that pits them against undead masked wearing gunfighters, including Wild Bill Hickok, zombies that can kill with a pointed finger, and (of course) an alien invasion.
Art duties will be filled by Mike Collins, best known for his work on the Doctor Who Magazine strips.