Marvel Collect! by Topps launched as an app about a year ago, and it's very likely an app many have seen advertised.  The app works much like the other apps that Topps has produced by promoting virtual trading card collecting.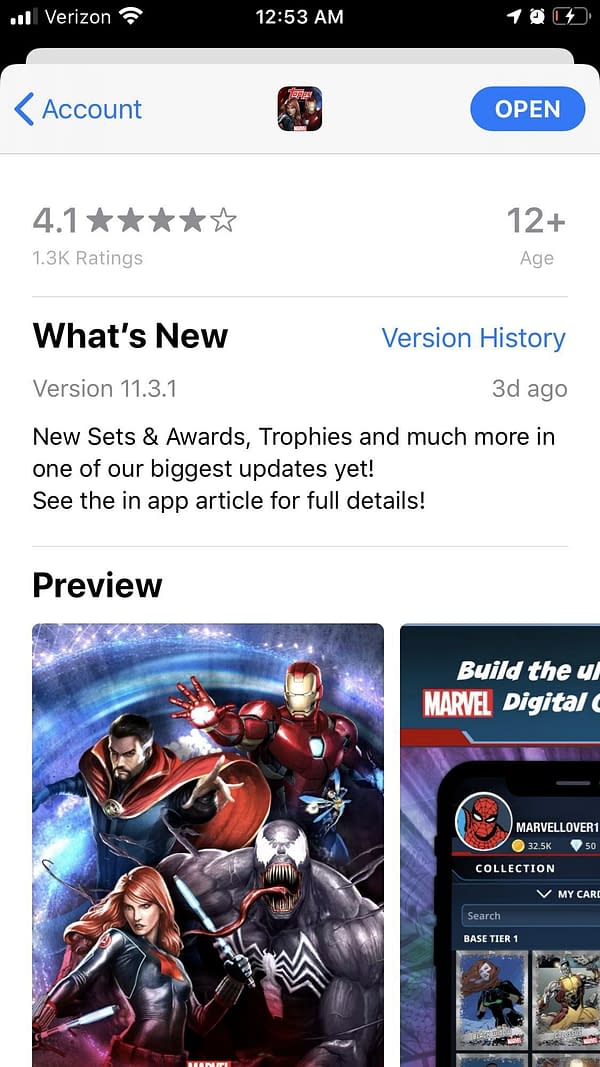 The app is free, but of course, to get certain types of currency to guarantee which cards you get in each pack, you "open" real money is needed.  The Marvel Collect! app is focused on Marvel Comics, of course, with most cards looking like the physical trading cards still put out by Topps today (similar to their Star Wars Card Trader and Disney Card Trader).
The range of cards available so far have only been Marvel Comics and Marvel Comics characters only. However, one of the latest sets debuted a character that has been in a Marvel comic but is not owned by Marvel Comics.
One of the latest sets promoted, "High Flyers," included a character who appeared in Marvel Team-Up Volume 3 #14, published in 2006, and on the cover, Robert Kirkman & Cory Walker's Invincible. Invincible published by Image until 2018 when the series reached its conclusion, and the title is set to be an upcoming Amazon animated series, also announced in 2018.
So is this a problem? Robert Kirkman, the copyright owner, was informed on Twitter about this.
INVINCIBLE now have some deal with Marvel @RobertKirkman ? pic.twitter.com/UtDhxQV1xT

— Griddlemarks (@Griddlemarks) May 16, 2020
What's that from?

— Robert Kirkman (@RobertKirkman) May 16, 2020
The card in question is an uncommon card on the app, id number 7865, and one of the blue variety in the set that has twenty-one cards in it. After "buying" six-packs days after Kirkman's tweet, I personally got one from the set, using about 6,000 of the free coins one can get for logging in on the app regularly.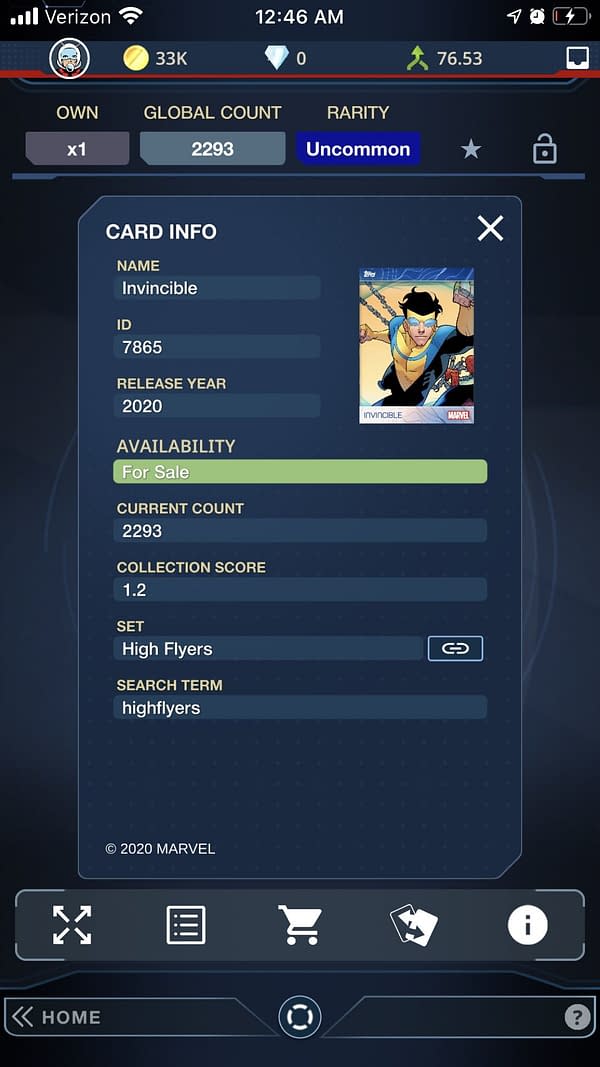 Now Kirkman may be receiving some kind of compensation for this. After all the Marvel Team-Up Volume 3: League of Losers that reprints the issue and the individual issue is still available for purchase on Comixology, but whether such an agreement translates to other online apps and trading cards? Well, that is for the lawyers to weigh in on.
Kirkman has made no other response about this issue since his initial tweet. The card is now marked as "SOLD OUT" but remains on the app for viewing and use by those who already have it.
Enjoyed this article? Share it!