Twelve Divine Covers by Jamie McKelvie for The Expanse Season 6 1/2
Jamie McKelvie will be drawing twelve exclusive covers for the Kickstarter campaign for The Expanse: Dragon Tooth from Boom Studios
---
Last month, Boom Studios announced the return of The Expanse in what Bleeding Cool has dubbed "The Expanse: Season Seven" in a series called The Expanse: Dragon Tooth in April.
The Expanse is a series of nine science fiction novels by James S. A. Corey, the pen name of authors Daniel Abraham and Ty Franck, which was adapted for television by Syfy and Amazon Prime Video for a total of six seasons. The final season of The Expanse left the story unfinished, not only because it only adapted through the sixth novel, but because Abraham and Franck wrote in a massive time jump in between books 6 (Babylon's Ashes) and 7 (Persepolis Rising) of nearly 30 years.
That time gap is what writer Andy Diggle of The Losers and Green Arrow: Year One fame and Voltron artist Rubine will fill in with The Expanse: Dragon Tooth… a massive playground for stories and something that should interest fans of The Expanse who have no new novels or streaming series content coming their way anytime soon.
Mentioned in Boom's initial press release was the fact that they would be bringing The Expanse: Dragon Tooth to Kickstarter at the same time as selling it into comic shops and bookstores, much like they did for their first campaign – Keanu Reeves' BRZRKR. Well bring it they have, as their "BOOM! Deluxe Pre-Order" campaign launched on Kickstarter just a short while ago and has already garnered $71,000 in pre-orders in about an hour.
The campaign revealed that Boom has secured The Wicked + The Divine co-creator, Hugo Award-winning artist, and The Expanse superfan, Jamie McKelvie to provide twelve Kickstarter-exclusive variant covers for The Expanse: Dragon Tooth #1-#12. McKelvie has only done one cover for the publisher previously, courtesy of his colleague Kieron Gillen, and is sure to be a draw. Especially if we get that Young Avengers teaser in Ant-Man 3.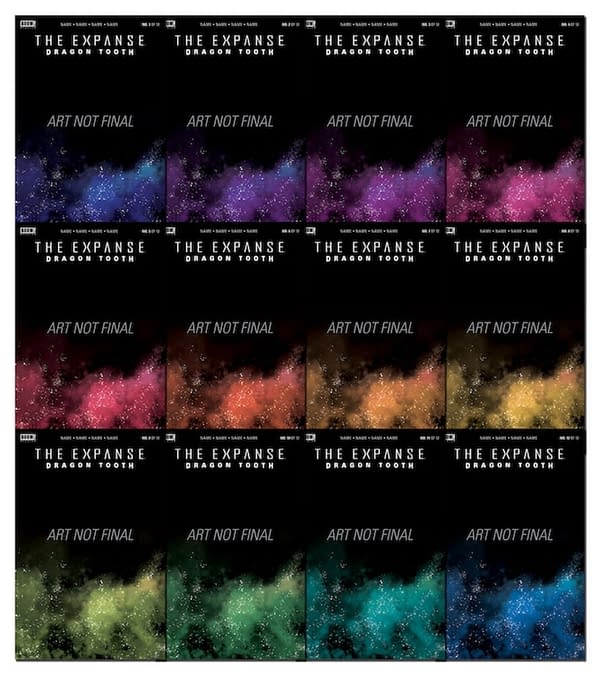 This is also the first time Boom has offered a complete series of single-issue comics directly through Kickstarter, something that other publishers have done with regularity. Admittedly, they are only offering the exclusive, deluxe variants which are priced higher than the series' normal cover price and will ship in three waves at the same time as the collected editions, so comic shops don't have to fear as Boom won't be competing day-and-date with them for sales.
The Expanse fans can also pick up sets of softcovers, exclusive hardcovers with variant cover art by Magic and Mighty Morphin Power Rangers cover artist Miguel Mercado, and those limited edition metal boxed sets that sold out in the BRZRKR campaign. Of particular note is that Boom is offering a total of 100 "show authentic" prop replicas of the Belter hand terminal from the show. I'm hearing that Boom is working directly with Alcon Television Group and the team that created the props for The Expanse to ensure these are as close to the real thing as possible. Between The Expanse superfans worldwide and cosplayers, those could go quickly…
Boom landed three out of the top 15 comic book Kickstarters in 2022, where will The Expanse land in the top Kickstarters of 2023? We'll have an idea in 30 days or so…