Undiscovered Country #1 is Image Comics' Biggest Genuine Launch in Five Years With 83,000 Pre-Orders
The hype for Scott Snyder, Charles Soule and Giuseppe Camuncoli's Undiscovered Country is real. I'm hearing from sources close to Image Comics that the highly anticipated launch set for November 6th release has officially FOC'd with the highest order numbers Image has seen for a new series in nearly five years, with a total bigger that Scott Snyder & Jock's series Wytches from 2014.
By our estimate, that'd put Undiscovered Country at over 83,000 ordered at Final Order Cut-Off with potential for more reordering activity in the weeks leading into release. As Bleeding Cool previously reported, Undiscovered Country is already topping the charts for reorders with Diamond.
But how does it rank exactly against other Image Comics successes?
Well, if we eliminate the C2E2 Bulk Order scheme that boosted Mark Millar and Olivier Coipel's The Magic Order #1 to nearly 200k in 2018 to trick a headline out of Deadline Hollywood, it seems like 83K would put Undiscovered Country #1 just after Jupiter's Legacy #1 in 2013 when Mark Millar and Frank Quitely's upcoming Netflix series made its comics debut at over 100k, and Robert Kirkman and Paul Azaceta's Outcast #1 in 2014, which had orders at just under 90k. That means Undiscovered Country is the third-highest launch since Image began its late-period renaissance in 2012 – and that in addition to dominating sales at DC, Scott Snyder can now claim two of the top five bestselling Image titles of the last ten years.
If that weren't enough, we'd heard that the Undiscovered Country NYCC exclusive variant sold out at the Image booth on day one and is currently selling copies on eBay from between $50 to $70, Deadline Hollywood asked is this "the next Walking Dead?" (proving that Snyder can play the game just as well as Millar), and the IP was picked up by New Republic in a million-dollar competitive bidding war before the Initial Order window on the launch issue even closed.
As another writer of some repute noted recently, it seems nobody wants to sleep on the next big hit out of Image Comics…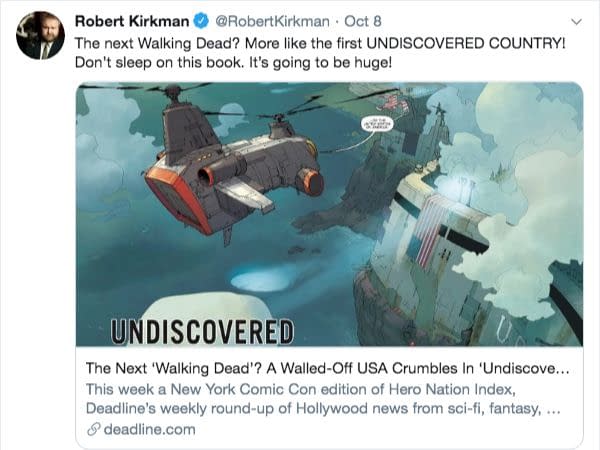 And, basically, Boom can go swivel.
UNDISCOVERED COUNTRY #1 CVR A CAMUNCOLI (MR)
(W) Charles Soule, Scott Snyder (A) Daniele Orlandini (A/CA) Giuseppe Camuncoli
SERIES PREMIERE! This November, New York Times bestselling writers SCOTT SNYDER (WYTCHES, A.D.: AFTER DEATH) and CHARLES SOULE (CURSE WORDS, the forthcoming novel Anyone) will team up with artists GIUSEPPE CAMUNCOLI (The Amazing Spider-Man, Darth Vader, Hellblazer) and DANIELE ORLANDINI (Darth Vader) and 2019 Eisner Award-winning colorist MATT WILSON (THE WICKED AND THE DIVINE, PAPER GIRLS) to embark on an epic adventure in the brand-new ongoing series, UNDISCOVERED COUNTRY!
In this special oversized first issue, readers will journey into the near future, and an unknown nation that was once the United States of America-a land that's become shrouded in mystery after walling itself off from the rest of the world without explanation over thirty years ago. When a team seeking a cure for a global pandemic breaches U.S. borders, they quickly find themselves in a struggle to survive this strange and deadly lost continent! In Shops: Nov 06, 2019 SRP: $3.99