Unmasking The Comic Book Film Adaptation with Brevoort, Kelly, Uslan And Waid At SDCC '15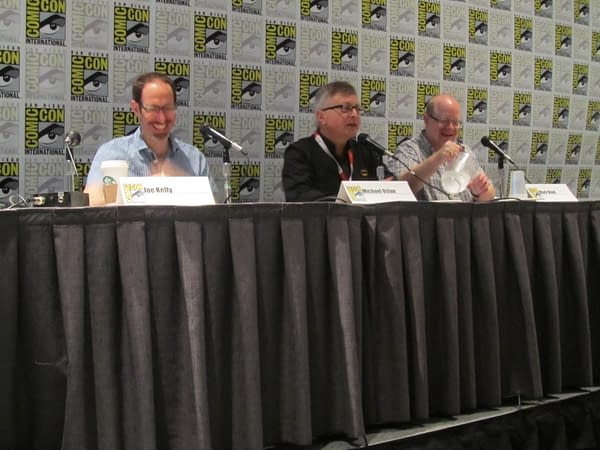 Comic-Book Movie expert Dr Liam Burke lead a discussion on Comic Book Film Adaptations with Tom Brevoort, Joe Kelly, Michael E. Uslan, and Mark Waid.
Dr Liam Burke writes,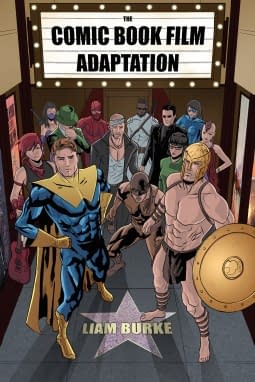 As a media scholar I have been researching the relationship between comic books and movies for more than a decade. To mark the publication of my new book The Comic Book Film Adaptation: Exploring Modern Hollywood's Leading Genre I assembled leading comic book creators Tom Brevoort, Joe Kelly, Michael E. Uslan, and Mark Waid at this year's San Diego Comic-Con to discuss this Golden Age of Comic Book Filmmaking.
To open the panel, I asked why, after a century of indifference, have comics and movies become so closely entwined. The panellists took a moment to consider such as large question before Kingdom Come writer Mark Waid posited, "in the mid 1980s, the trifecta of Watchmen, The Dark Knight, and Maus" gave comics greater credibility, "and then ten years later, the guys who were reading that stuff became junior executives at studios". Michael E. Uslan was at the forefront of this transition. A long-time comic book fan Uslan originated the Batman film franchise after securing the character's film rights in 1979. The producer described how he's often asked, "How the hell did a kid in his 20s buy the rights to Batman?" before explaining, "the unglamorous truth is that nobody else wanted them. I was convinced every studio was going to line up at my doorstep when they heard I had the rights to Batman, but I was practically thrown out of the offices of every single studio in Hollywood. Warner Brothers wouldn't even let me in the door to pitch to them".
The panellists also identified a digitally empowered fanbase as instrumental in the comic book's transition from the fringes of popular culture to the centre of mainstream film production. Writer Joe Kelly recounted how the Deadpool comic "was cancelled four times and then letter-writing campaigns brought it back four times. I just couldn't emotionally handle the stress for the fourth time so that's why I stopped working on it. But now the special effects trailer 'leaks', fans explode, and with that momentum you can walk to your studio head and say, 'Look what all these people did'. So the voice of the fans is very powerful".
I asked the panel why larger audiences, many of whom have never read a comic, were also embracing these comic-book movies, with Uslan pointing to their ability to cross divides, "We are polarised all around the world, yet, Captain America is doing well at the box office in China. So the superheroes have a chance to bring us all together in a way that overcomes differences of religion, politics, and culture".
Discussion moved to the impact that comic books have had on storytelling in cinema and media more generally. Joe Kelly, who is one of the founders of Ben 10 production company Man of Action, noted how "Everyone's about world-building in Hollywood, 'Can you give us a world? Can you give us a universe?' Comics have been doing that since day one" with Waid adding, "the most flattering thing I ever heard in a meeting was 'How did you think of that?' It's what I do everyday; it's like asking a plumber how he managed to put two pipes together. But they think it's magic".
Turning to whether there are any comics that should never have been adapted to the screen Waid remarked, "I never wanted to see Watchmen on the screen, I really didn't. That's not even a slam on the Watchmen film because I think they did as good a job as they possibly could, but to me Watchmen is the essence of comics, and so why would you adapt it into another media? To me, that was like turning a coffee table into a jet airliner." To this list, Uslan jokingly suggested that he never wanted to see, "Bat-Mite: The Movie" to which Joe Kelly responded, "I was totally going to pitch that to you after the panel". Marvel Comics Senior Vice President of Publishing, Tom Brevoort, was more optimistic, "I think almost anything can be adapted to another medium. The syncopation of copy and visuals on the comic book page is not the same as actors performing for two hours on the screen, but as long as you can get to the essence of whatever a thing is, you've adapted it well".
To conclude the discussion, I asked the panellists if the comic-book movie trend was sustainable. Experienced producer Uslan, who described this era as "The Golden Age of Comic-Book Filmmaking", warned that, "the danger is if Hollywood does what it has traditionally done, which is to kill the goose that lays the golden egg. To me, the danger is oversaturation. How do you solve that? You get passionate filmmakers with a vision and you give them everything they need to execute that vision. To me, that's the ultimate solution for a silver age being here".
While the future of comic-book movies is uncertain, this Golden Age of Comic-Book Filmmaking will stand as a unique moment in which cinema was enriched by an oft-dismissed form, and for longer than anyone would ever have expected, the comic-book movie became Hollywood's leading genre.
Dr Liam Burke (@burkeliam) is a media studies lecturer at Swinburne University of Technology and the author of the new book The Comic Book Film Adaptation: Exploring Modern Hollywood's Leading Genre