Valiant Bans Mention Of Bad Idea On Facebook
Bleeding Cool has been repeatedly breaking news about the new New York-based publisher Bad Idea Comics, formed from former executives of Valiant Entertainment. But there's one place you won't read about the publisher – and that's on Valiant's own associated Facebook pages, such as Valiant Comic Fans. Administrator Christopher Amundson made it very clear. If they want to sty on Valiant's good side, then mentioning Bad Idea is a very bad idea indeed.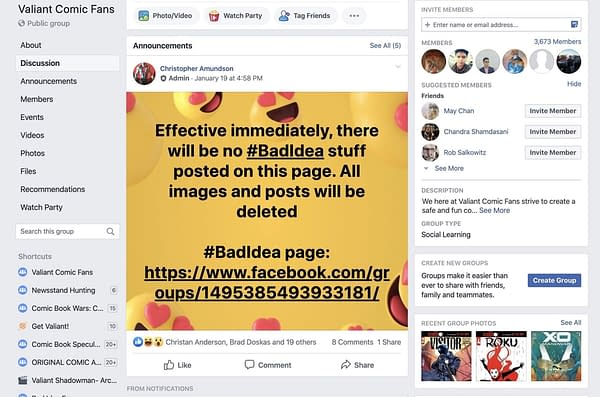 Even if the Valiant fans themselves really want to talk about it.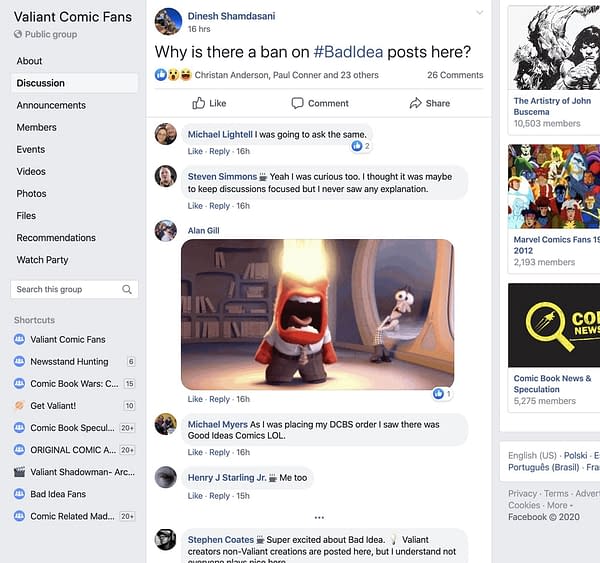 Bad Idea is the brainchild of the five team members that rebuilt Valiant after the Acclaim crash and developed the forthcoming Bloodshot movie, Dinesh Shamdasani and Warren Simons will share the roles of Co-CEO & Co-Chief Creative Officer, Hunter Gorinson will serve as Publisher, Joshua Johns will serve as Director of Marketing, and Atom Freeman has returned as a Sales Consultant. You can read Bleeding Cool's coverage of Bad Idea here – just don't post it to the Valiant Comic Fans Facebook page or all manner of naughtiness could emerge.