Vault Comics to Bring Luxurious "High-End" Exclusive $100 Variant for The Plot #1 to New York Comic Con
Following the announcement last week that Vault Comics would print a variant for These Savage Shores in gold ink for Local Comic Shop Day, the fancy-pants publisher has now announced an even more luxurious variant catering to the ultra-elite 1% of comics collectors for The Plot #1, to be sold exclusively at New York Comic Con. The cover, which will feature "design filigree printed in a special metallic-gold ink, with the central image printed using a special spot-gloss finish," is touted as being "hyper-limited," as only 100 copies of the comic will be printed, more than justifying the cover's $100 price.
"I say, that variant cover seems like a fine investment, old chap," said Richtholemew Q. Johnsington III, a Bleeding Cool consultant specializing in high-end variant covers and usury. "This is the most extravagant variant cover I've come across since Valiant Entertainment produced a Bloodshot variant that was passed through the digestive tract of an elephant and extracted from its feces, the enzymes producing a mild, nutty flavor that makes a suitable addition to any collection. Tally-ho!"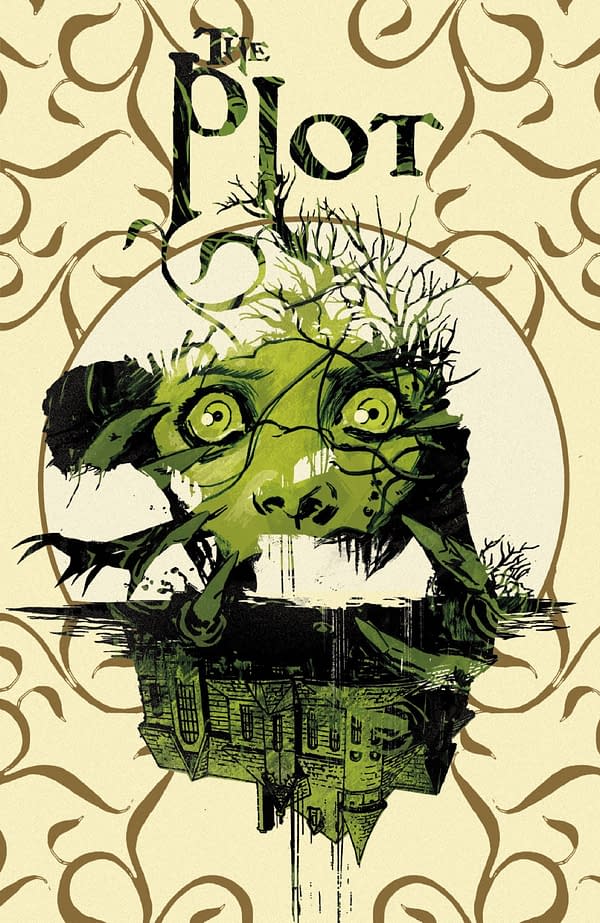 In addition, The Plot co-creators Tim Daniel, Mike Moreci, and Joshua Hixson will be at the Vault booth #2223 to sign the comic, because the first thing everyone likes to do when purchasing a comic book for $100 is to have someone scribble all over it with a marker. Below, see the full Vault signing schedule for NYCC:
---
VAULT COMICS SIGNING NYCC SCHEDULE:
BOOTH #2223
Thursday:
12:00-1:00pm – MICAEL MORECI, TIM DANIEL, JOSH HIXSON (THE PLOT)
2:00-2:45pm – JOE CORALLO & LIANNA KANGAS (SHE SAID DESTROY)
3:30-4:15pm – DENIZ CAMP (MAXWELL'S DEMONS)
4:30-5:15pm – JON TSUEI (SERA AND THE ROYAL STARS)
Friday:
11:00am-12:00pm – MICAEL MORECI, TIM DANIEL, JOSH HIXSON (THE PLOT)
12:30 – 1:30pm – DANNY LORE (QUEEN OF BAD DREAMS) & VITA AYALA (SUBMERGED)
2:00-2:45pm – JOE CORALLO & LIANNA KANGAS (SHE SAID DESTROY)
3:00-4:00pm – MICAEL MORECI & TIM DANIEL (THE PLOT, WASTED SPACE)
Saturday:
11:00-11:45am – JON TSUEI (SERA AND THE ROYAL STARS)
12:00-12:45pm – DENIZ CAMP (MAXWELL'S DEMONS)
1:00-1:45pm – MAGS VISAGGIO (VAGRANT QUEEN)
2:00-2:45pm – JOE CORALLO & LIANNA KANGAS (SHE SAID DESTROY)
3:00-4:00pm – ALEX PAKNADEL (FRIENDO)
Sunday:
2:00-2:45 – JOE CORALLO & LIANNA KANGAS (SHE SAID DESTROY)