What's Up With Venom In War Of The Realms #3 Then? (Spoilers)
Yesterday saw the release of War Of The Realms #3, another twenty-page $4.99 comic book from Marvel that will be laying the price points of the future, no doubt. It also featured, among its many cast, Venom. Looking and acting like classic venom but also tying into revent Venom continuity.
As Malekith takes over London – no, all of Europe. No Brexit happening on this Dark Elfs watch and the Brezit Party can just swivel. .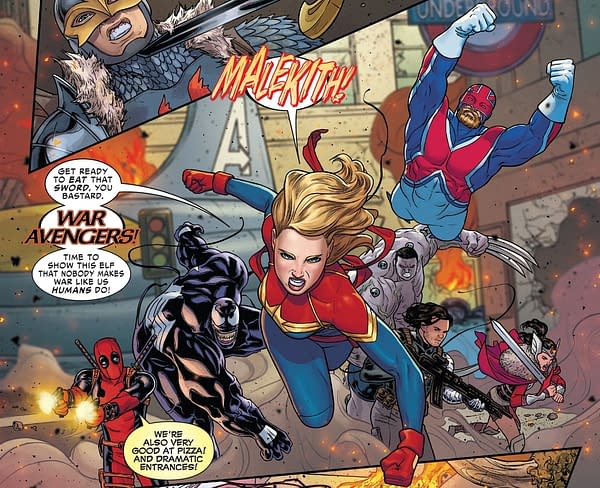 And Venom comes out swinging… hey hang on a minute, Venom? Looking like Mark Bagley drew him?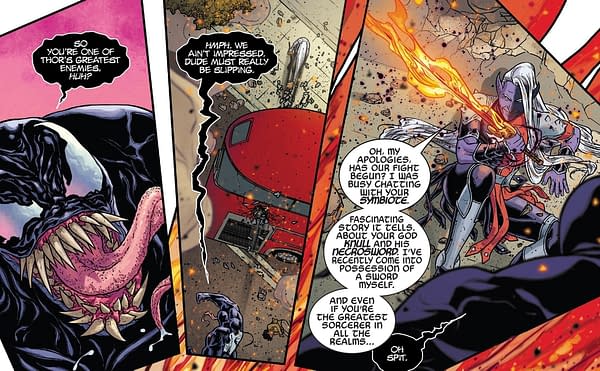 Okay, Erik Larsen.
It doesn't bode well for Venom. Ezcept, hang on, didn't we just see Eddie Brock in the most recent Venom #13, and one that was a War Of The Realms crossover, living without his symbiote and in New York, not London…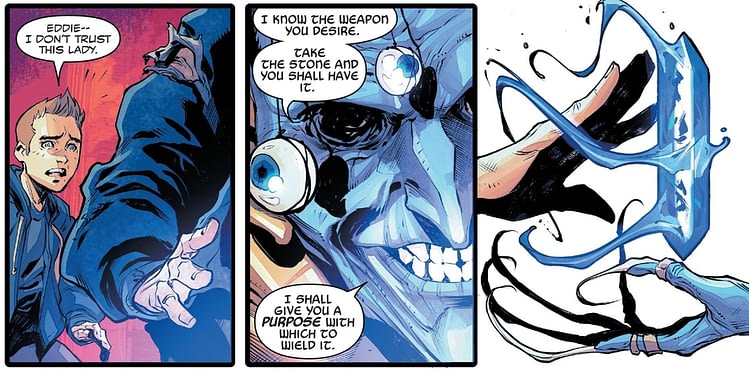 Only for a dreamstone to grant him a magically generated replacement symbiote, looking very different and not part of the line of symbiotes that Malekith refers to above?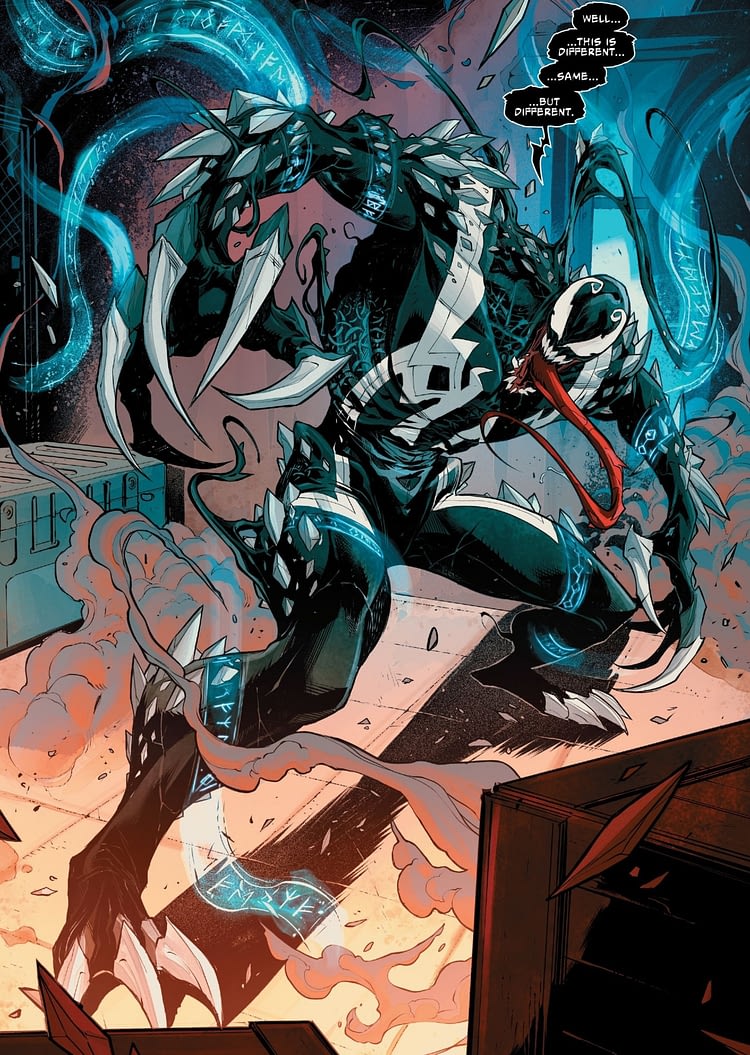 And not looking at all tlike the classic Venom – at least not as portrayed in War Of The Realms #3.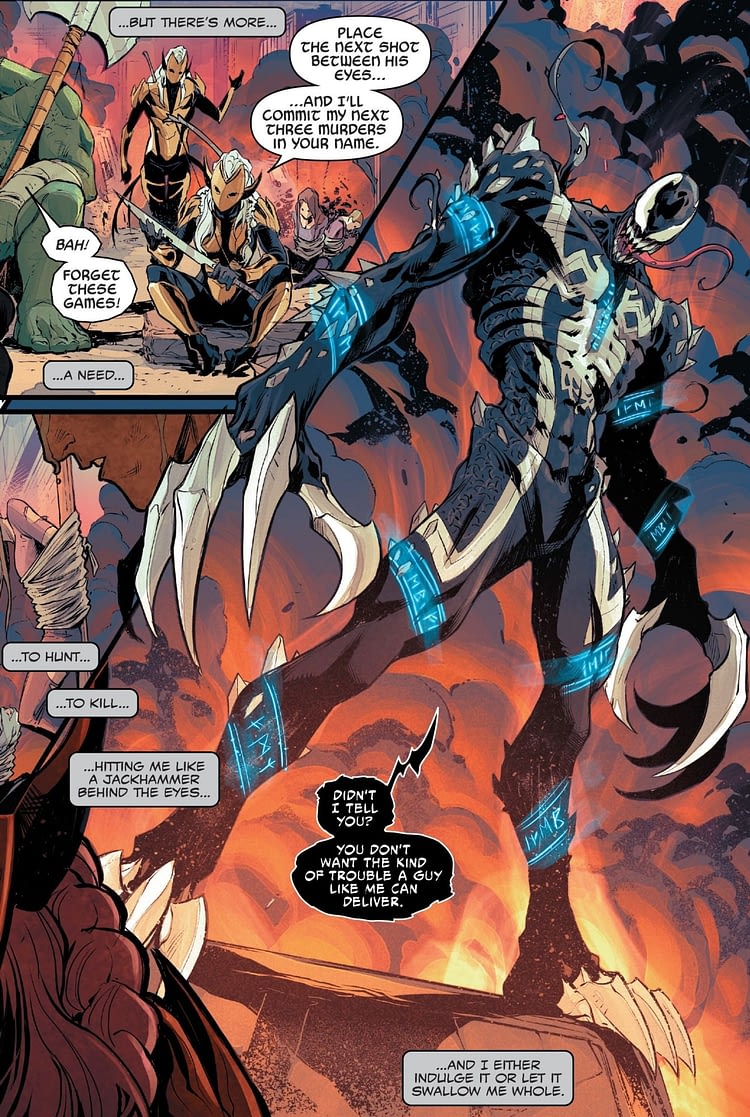 Oh Marvel Editorial? Might want to check all your symbiotic ducks are in a row. I know it must have been hard trying to to in a character who no longer had his pwoers into such a crossover event with even the original team going, yeah, no, it's your character, Marvel but we don't want to write this. But then to take what the replacement team did and just ignore it anyway? Makes you ask what the point was.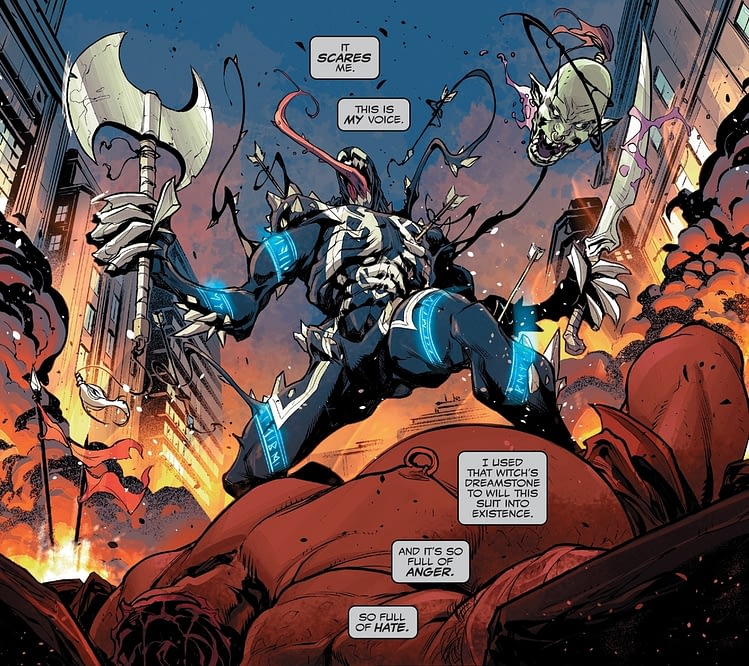 Although after what happened to Venom in War Of The Realms #3, maybe no one needs to care any more…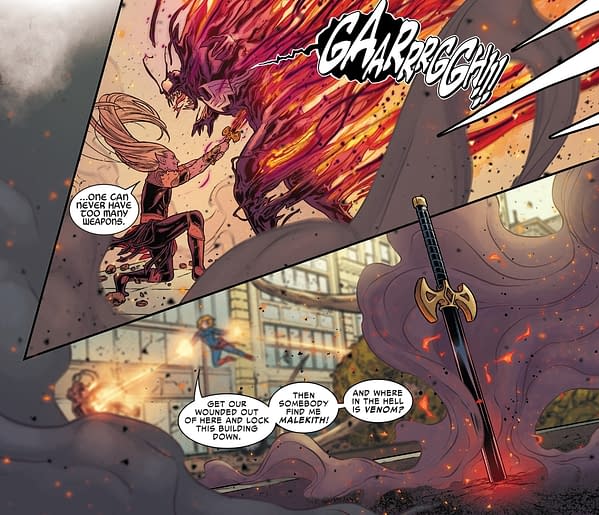 Where indeed? And which Venom? And where's his kid? And will he really become a weapon for Malekith, and utterly ignore Venom #13 in the process? Could be….
WAR OF REALMS #3 (OF 6) WR
(W) Jason Aaron (A) Russell Dauterman (CA) Arthur Adams, Matthew Wilson
RECLAIM THE REALMS!
North America freezes into New Jotunheim. Europe becomes New Svartalfheim. Asia goes up in flames as the new domain of Queen Sindr and her fire goblins. Ulik the Troll lays claim to Australia while Amora the Enchantress raises an army of the dead in South America. Africa falls to the Angels of Heven while Roxxon Oil drops its stakes in Antarctica. Midgard now belongs to Malekith and his allies! The Avengers' last hope lies in a series of suicide missions across the realms, starting with the rescue of Thor-last seen surrounded by an army of Frost Giants in Jotunheim…
Rated T+In Shops: May 01, 2019
SRP: $4.99

VENOM #13

(W) Cullen Bunn (A) Iban Coello (CA) Ryan Stegman
WAR OF THE REALMS TIE-IN!
• The Marvel Comics event of the year makes landfall in the world of the wicked web-slinger as Venom gets swept up in Malekith's campaign to take over the Ten Realms!
• But Malekith has designs for the sinister symbiote…and they may prove fatal!
Rated T+In Shops: Apr 24, 2019
SRP: $3.99