I may have mentioned how much I enjoy the work of Terry Wiley. So much that when I got the chance to write a story for one of those Image Comics music anthology graphic novels, I was able to get Terry Wiley as artist. It probably represents my comic book creation apogee. I'm never going to top that…
So anyway, there's a graphic novel app called Sequential. We've mentioned that too.
And for the next ten days, they have Terry Wiley's Verity Fair down from $9.99 to $0.99. Or 69 pence in proper money. Either way, that is your comic book bargain of the month.
Verity Fair takes one character from the Sleaze Castle opus and tells her story today, a semi-actress, trying partially to get her life together, or at least hold it together with sticky tape. There are dreams, friends, and odd opportunities with her new agent. It's very, very funny, it's very human, the storytelling is up there with Jeff Smith, Steve Dillon and Frank Cho, and for 99 cents on the Sequential App, there is no excuse not to read the whole thing.
Seriously, no excuse. This is a mandatory Bleeding Cool command, if you have an iPhone or iPad you absolutely must download the Sequential App, and pay the 99 cents for Verity Fair. I cannot think of a better bargain in comics right now.Go. Then thank me in the comments.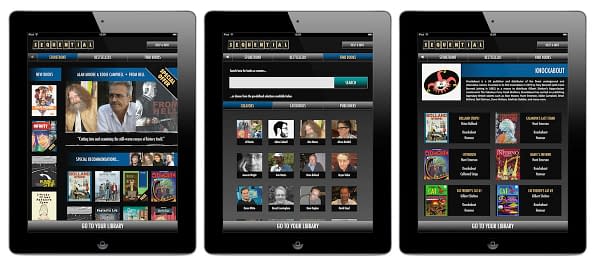 Enjoyed this article? Share it!