Vixen & Batwing, Together At The Dawn Of DC (Spoilers) #Vixwing
DC Comics looks like they will be bringing Vixen and Batwing closer together for 2023 in the Dawn Of DC. Is it too soon to use the hashtag #vixwing?
---
Yesterday, Bleeding Cool broke the news that it seemed that DC Comics is setting up a Batwing & Vixen story for 2023, with Batwing and Vixen as a romantic couple. And that tomorrow's DC Power: A Celebration anthology to be the place where it all goes down. Vixen was a friend of the former version of Batwing, David Zavimbe, but this appears to be a brand new… coupling. Will we get a Batman & Vixen comic for Dawn Of DC? Or a Vixen & Batwing? Qe don't know, but some threw some doubt on Bleeding Cool, enough that others took pity on us, and forwarded us the following panels from the comic in question.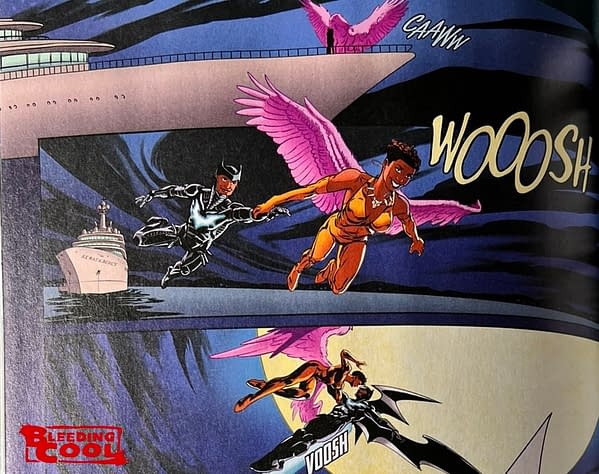 And confirmed that, yes, this was Vixen and the Luke Fox version of Batwing, not David Zavimbe.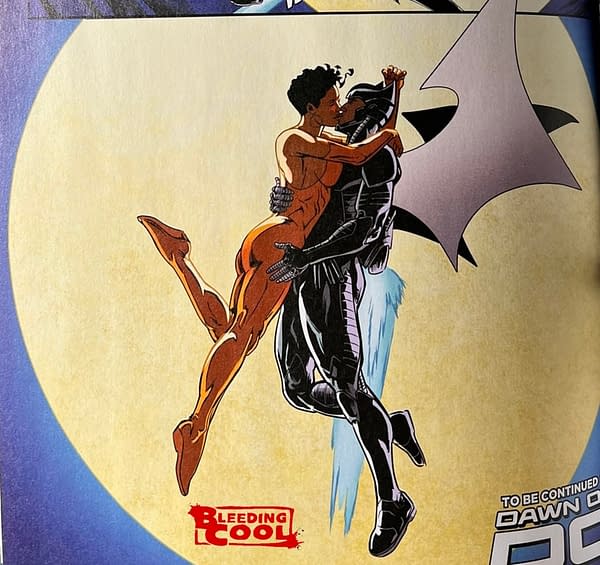 Emphasis on the "To Be Continued" in the Dawn Of DC. The story in question appears to be by Chuck Brown, Petterson Oliveira, DJ Chavis and Andworld Design.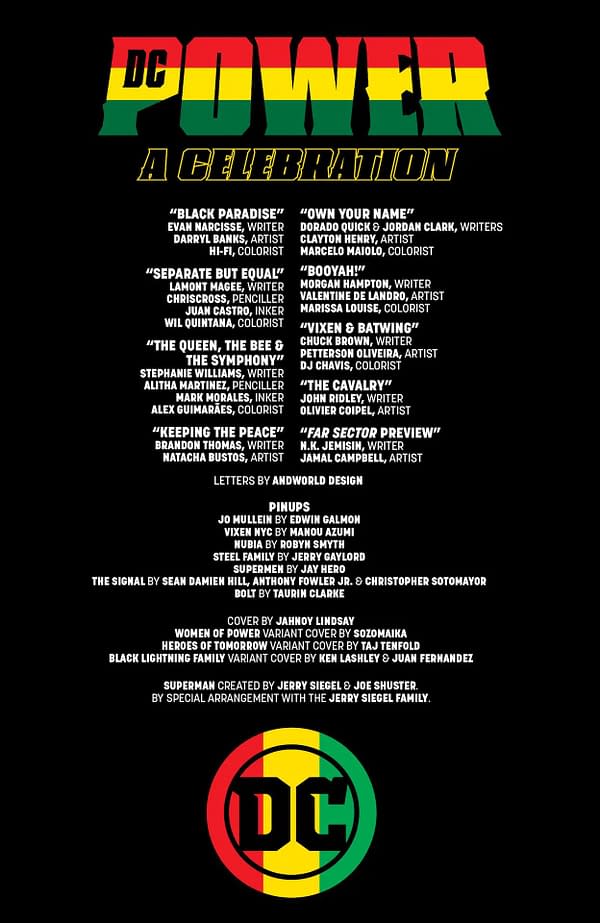 Vixen was created by Gerry Conway and Bob Oksner for Action Comics in 1981 as a superhero who channels the Tantu Totem, which allows her to harness the spirit of any animals for their abilities. She was originally intended to be the first African woman DC superhero with her own series, but the first issue was cancelled in the DC Implosion in 1978, Recently she got her own series with Vixen: Return of the Lion, as a mini-series looking at Vixen's return to her home village for the first time. In the DC Bombshells continuity set in World War II, she is portrayed as a gay woman with Hawkgirl as a partner, and in the Harley Quinn Animated Series comic book, as bisexual character with a new girlfriend, Elle. But changes are afoot in 2023
As readers of the 5G Files will be aware, once upon a time, it was planned that Luke Fox, the current Batwing of the DC Comics universe, would be the new Batman. Co-created by Dan DiDio's colleague Jimmy Palmiotti, when Dan DiDio was fired as publisher, Luke Fox was dropped in favour of the previously-established son of Lucius Fox, Jace Fox. And rather than being the new Batman replacing Bruce Wayne, Jace fox was shunted off to New York to be the Batman of that city instead. But what of Luke Fox and Batwing? He has popped up in The Joker War, but there hasn't been much presence of late. But that also may be about to change in 2023 and we did get a Batwing: Luke Fox collection last year.
DC POWER A CELEBRATION #1 (ONE SHOT) CVR A JAHNOY LINDSAY
(W) Various (A) Valentine De Landro, Clayton Henry, Various (CA) Jahnoy Lindsay
Written by Chuck Brown, Morgan Hampton, Stephanie Williams, Evan Narcisse, And Others. First there was DC Pride and DC Festival of Heroes; now it's time to celebrate Black History Month! Cyborg, John Stewart, Aqualad, Kid Flash, Batwing, Vixen, Amazing-Man, and more take center stage to highlight the power of Black excellence across the DC Universe, in stories from a variety of comics' finest Black artists and writers! Retail: $9.99 In-Store Date: 01/31/2023