A Walk Through Hell #1 Advance Review: A Chilling and Masterful Opening Issue
[rwp-review-recap id="0"]
A mass shooting takes place in a mall. A pair of FBI agents named McGregor and Shaw are tasked with investigating what may have sparked this killing. After doing so, another pair of FBI agents go missing, and McGregor and Shaw go to investigate the warehouse where they were last scene entering. However, many things are off about this turn of events.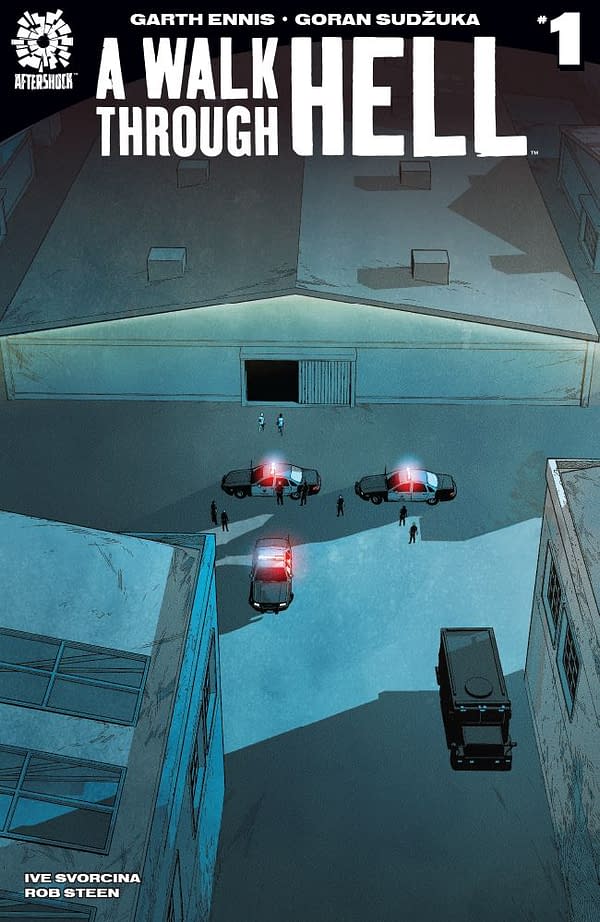 Garth Ennis has done it again with this unnervingly clinical comic book. It begins with the shock of the mall shooting and the perspective homing in on one of the victims. After this brutality, it proceeds with the cold progression of an episode of X-Files. However, this tone is once again shattered by the shocking events of the last handful of pages.
There is also a narration that enters at the beginning and shows up once more at the end foreshadowing what's to come throughout the series — it says that a man whose wife and child were murdered in front of him "got off easy."
Things are kept somewhat contemporary by veiled discussions of the president and Twitter debates about the aforementioned mass shooting. This also serves to give a heavily nihilistic tone to events.
The comic carries itself with the weight and pacing of something written by a consummate professional like Ennis, and it's almost maddeningly clever.
Goran Sudzuka's artwork is gorgeous in its simplicity. The characters are detailed in subtle ways while leaving much of the page space filled but clean. Panel framing is done well, and the sequencing is great. Ive Svorcina's color work bolsters the comic well, and the overall product is visually great.
A Walk Through Hell #1 is an impressive and chilling opening salvo for the AfterShock series. Ennis, Sudzuka, and Svorcina deliver, and the ending will leave you impatient for the next installment. The tone and pacing are near-perfect, and this one earns a strong recommendation. Give it a read when it comes out this Wednesday.
[rwp-review-ratings id="0"]
[rwp-review-form id="0"]