They did it, they finally did it. It has been teased many times, suggested even more times, debated on fan forums since the series began over 15 years ago. But now The Walking Dead has done it. And they didn't even wait until the 200th issue. It's all about The Walking Dead #192. Spoilers ahead of course.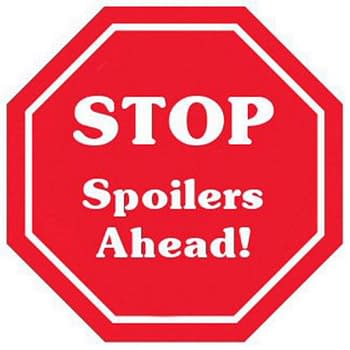 Retailers upped their numbers well it seems, but the big news is not out there yet, and you can still pick up a copy for cover price. Not this one though – a blank sketch cover with a sketch of Rick Grimes by Charlie Adlard on it already is already up to $200 with 12 bids and over four days to go on eBay.
Last month's The Walking Dead #191 caused quite a stir, but many saw the cliffhanger as a bait and switch. It looked a fatal shot by Sebastian, son of the former governor of the Commonwealth trying to take revenge on Rick Grimes for her downfall. And as you may have seen in Bleeding Cool yesterday, in The Walking Dead #192 we see that this shot was the first of many. And, with his dead body left by Sebastian who went on the run, the inevitable happened. Rick Grimes rose again, discovered by his son Carl.
The final shot.
Carl is not the boy he once was. And his natural reaction was one that was short and sure.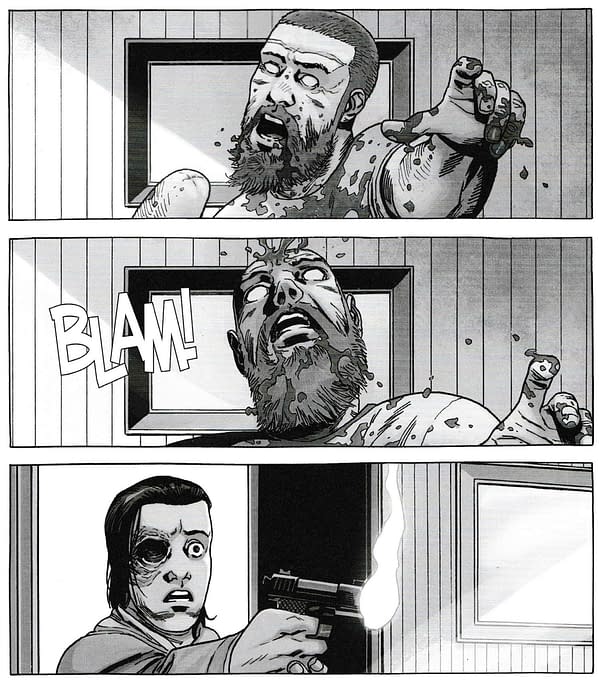 The Walking Dead was always more than Rick Grimes, but it inevitably revolved around him. That was entrenched even more by the performance by Andrew Lincoln in the TV adaptation. But just as that show is losing Rick for the TV show (with films ahead) so the comic has lost Rick Grimes.
But his son survives. Carl Grimes has now lost his entire family, but they made him the young man he is now. The pressure on his shoulders will be immense. The Walking Dead is his story now, the question is how long he can remain sitting, how many stumbles he must take before he can walk tall in his father's shadow?
No pressure.
We've been here before.
It's not the only Image comic book to do this, The Savage Dragon by Erik Larsen also saw its main character die, the lead role taken by Malcolm Dragon, his son, carrying the narrative through. Will the Walking Dead be able to do this, or will it take even more of an ensemble narration than it has through its run? Rick remained a focus, the central voice who may not have instigated every event but his reaction was always the important one.
Or is Carl Grimes also feted for death as well? What will Sheriff Kapoor have to say?
The Walking Dead #192 by Robert Kirkman, Stefano Gaudiano, Cliff Rathburn, Dave Stewart and Charlie Adlard is published by Image Comics/Skybound today.
WALKING DEAD #192 CVR A ADLARD & STEWART (MR)
(W) Robert Kirkman (A) Stefano Gaudiano, Cliff Rathburn (CA) Dave Stewart (A/CA) Charlie Adlard
"AFTERMATH": Carl fights for the Commonwealth… but who is he fighting against?In Shops: Jun 05, 2019
SRP: $3.99
Enjoyed this article? Share it!