Warren Ellis Brings Back The Authority to WildStorm?
Warren Ellis co-created The Authority with Bryan Hitch out of the bones of Stormwatch, their poor-selling comic for Wildstorm, and ended up changing superhero comics forever. The sarcastic, intelligent, blockbuster of a comic book led by Jenny Sparks featuring hard-hitting sexually diverse politically active 'heroes' imposing their views on the world would influence every other superhero comic, either copying or rejecting their advances, and there is a direct line from The Authority to the success of the Marvel Studios movies. However while much of this has involved the militarisation of superheroes, The Authority took an opposite tack, opposing the military and tricking the audience into thinking that the leads were the good guys – the title being the tipoff that maybe they shouldn't be trusted more than any other self-appointed authority. The first collection, Absolute Authority, would see all comics publishers move to oversized twelve issue hardcovers for their premiere comic book series.
The Authority was killed by a thousand cuts at the hands of DC publisher Paul Levitz, eventually forced into a mature readers setting and into obscurity, as Marvel profited off their innovations with The Ultimates, New X-Men and then the movies.
Of late, Warren Ellis has been reviving the Wildstorm brand for DC Comics with The Wild Storm, a two year mini-series with spinoffs that has something in common with X-Men: Grand Design, taking an existing continuity and rewriting it as if it was all intended to be this way for the beginning. And while many characters have returned, been reintroduced or been reimagined, The Authority as a team has been kept back.
That looks as if it may change in April.
From the leaked DC Comics solicitations, we get this…
THE WILD STORM #22
written by WARREN ELLIS art and cover by JON DAVIS-HUNT
"The Sparks has the authority." Jenny Mei Sparks has assembled a group of misfits and exiles, to stand against a corruption that covers the world and orbits above it. The problem? She's probably too late. The endgame for a free Earth is in motion.
ON SALE 04.17.19 $3.99 US 32 PAGES FC RATED T+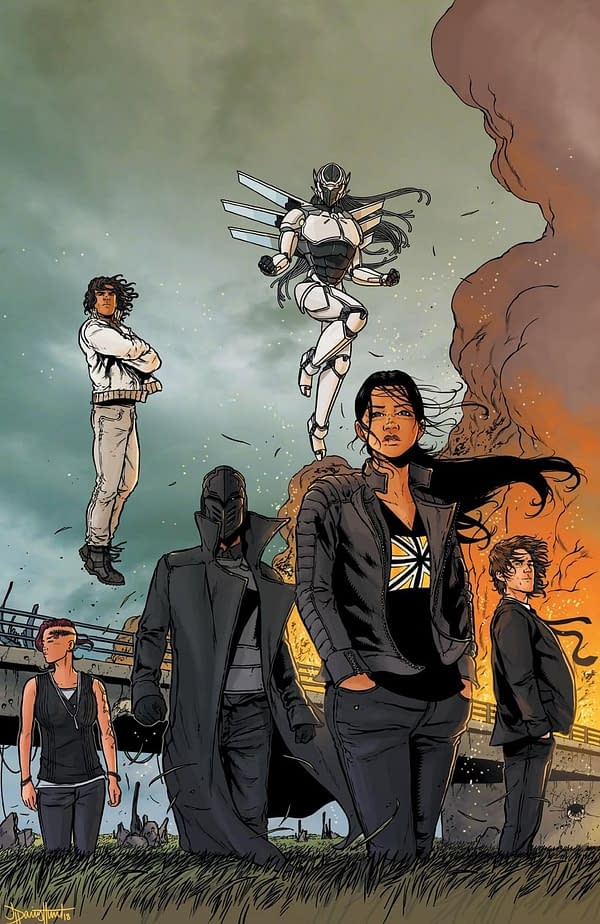 With Jenny Mei Sparks, Angie Spica (Engineer), Shen Li-Min (Swift), Jack Hawksmoor – and a new Apollo and Midnighter? And from the recently published issue 18…