Way Of X To Tackle Marvel's Scarlet Witch Problem With Religion?
Wanda Maximoff, the Scarlet Witch has had a… mixed history at Marvel Comics. First an X-Men villain, then an Avenger, then a robot's wife and mother to illusionary kids, then an insane destroyer of reality (two or three times), then an eraser of all almost all mutant powers, and now a schoolteacher.
In the last few decades, the Scarlet Witch she's generally been portrayed as someone whose power got too much for her, and sent her into madness. There are very familiar tropes regarding "hysterical" women, women who have more power than they can handle. The use of the word "hysteria" comes from the Greek for "uterus", and Hippocrates' belief that madness was caused by the uterus moving around the body. This kind of trope is not uncommon for superhero comics, though Dark Phoenix is the more famous example. It was also mirrored in the TV series WandaVision, that saw Wanda Maximoff cruelly enslave a whole town into becoming helpless puppets of her own mental breakdown. Though at least she was present in the narrative, while in the House Of M rewritten reality she remained unconscious the whole time, after using the phrase "No More Mutants".

In the Marvel comic books, it was also revealed that she was not, as she had thought, the daughter of Magneto. And she wasn't even a mutant, but a product of the High Evolutionary. Which saw her given a new name in the X-Men comic amongst the inhabitants of the mutant island of Krakoa.
"The Pretender". By her once-father Magneto in SWORD, but also by pretty much anyone else on the island. Over in The Marauders, by Callisto…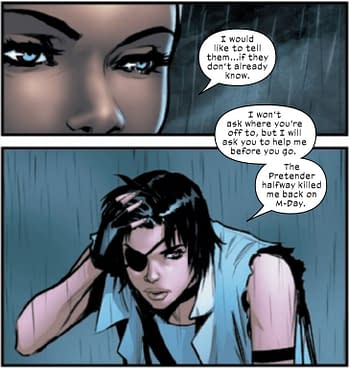 And the kids of Krakoa being taught her history by Adam X in X-Men. Thy even have call-and-responses.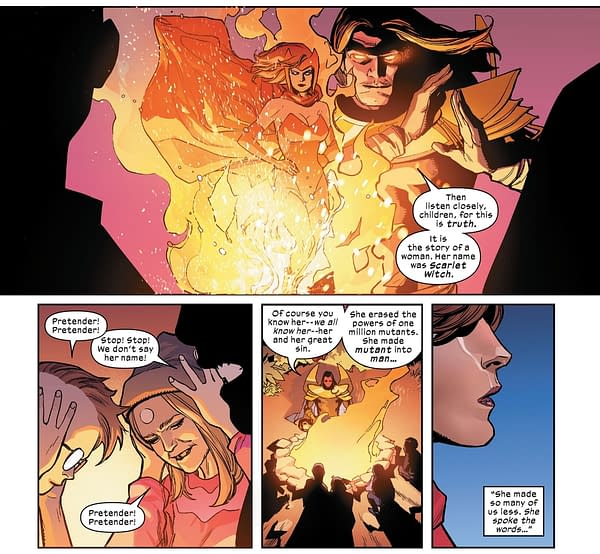 No longer a mutant, no longer the daughter of Magneto, and even though she removed mutant powers rather than kill mutants, she has been seen as the greatest genocidal force of mutants in the Marvel Universe.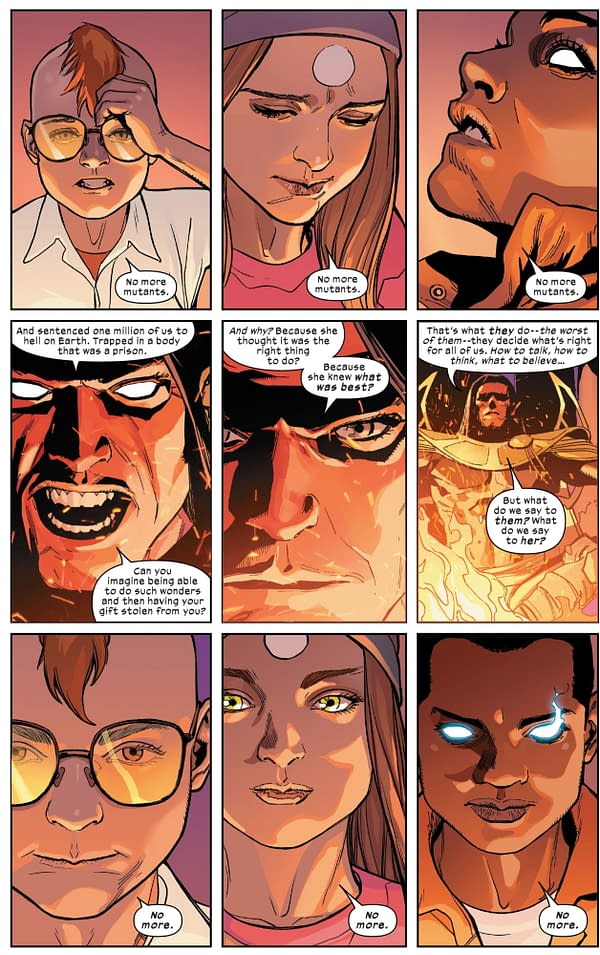 Even more so than Cassandra Nova who murdered an entire mutant nation.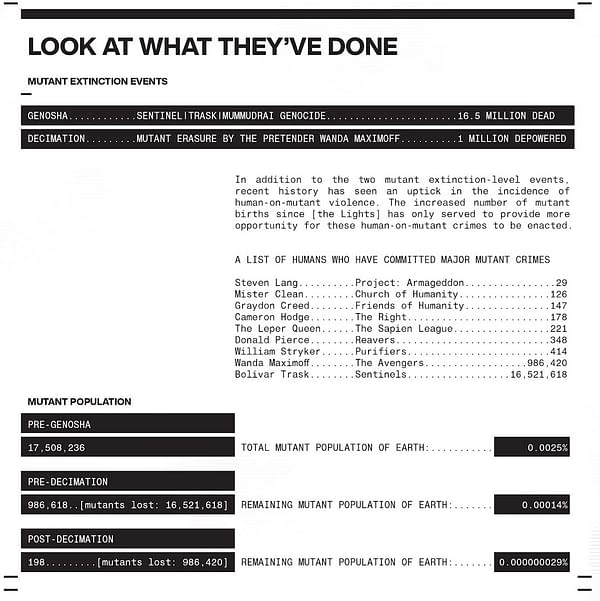 At least Wanda tried to bring all the Genoshans back.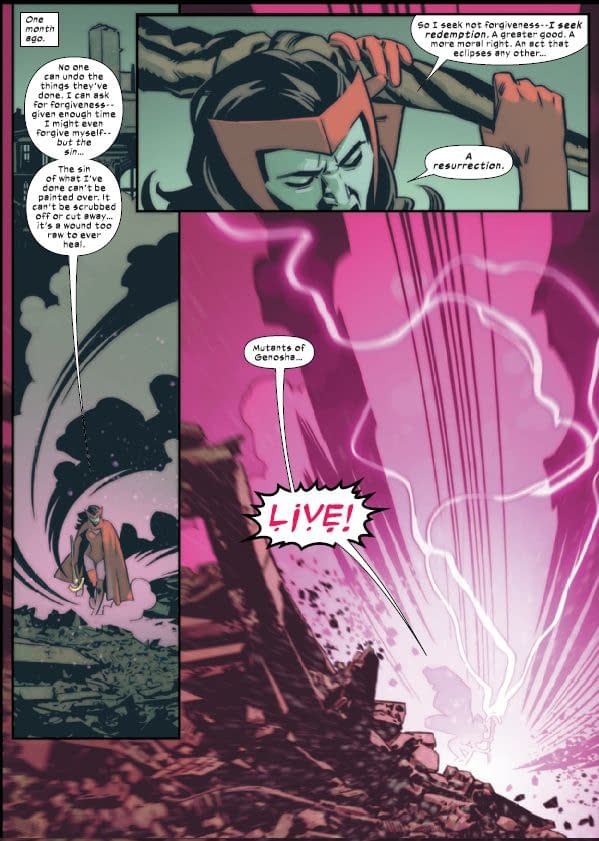 Not that this went well. In the Marvel Universe, she is estranged from Krakoa, is currently working as a tutor in the Strange Academy and occasionally fighting alongside The Avengers. But it appears that the upcoming mutant comic book, The Way Of X, by Si Spurrier and will be tackling this situation on, according to this promo page posted by Spurrier, with the song "Sing A Song Of Sixpence" rewritten as a mocking assault on Wanda.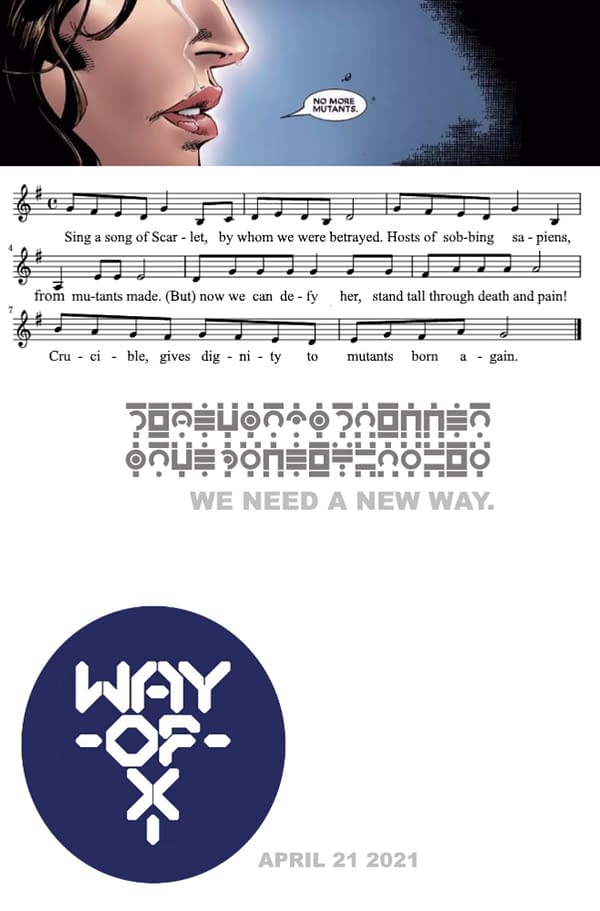 The phrase below the mocking song and the statement "We Need A New Way" is Krakoan for "Something Is Rotten In The State Of Krakoa", the Hamlet-reference that suggests that Spurrier will also be tackling the Scarlet Witch – and all the associated issues around her, in Krakoa. And maybe wringing the whole system down.
The Crucible, in Krakoa, is the event that sees mutants – or former mutants whose powers were wiped by Scarlet Witch – kill each other, so they can be reborn by The Five in their full mutant glory – even better than before. Way Of X includes Nightcrawler's desire to create a new mutant religion.
Promoting the upcoming X-Men series Way Of X by Si Spurrier and Bob Quinn, Marvel stated "The soul of Krakoa is at stake. Only Nightcrawler and his team can help mutants defeat their inner-darkness and find a new way to live. This is the "Way of X"!"
Spurrier was keen to state "I should probably just tell a lie for the sake of a neat elevator pitch and say that WAY OF X is a story about the creation of a new mutant religion. But it's not—not really. That's kinda where it starts, for sure. Nightcrawler realises something's wrong with the hearts and minds of mutantkind and sets out to fix it. But as he quickly discovers, this isn't a job for priests and prayers… The question is, what do they have to become in order to fight it? Preachers? Cops? Executioners? Or something entirely new?"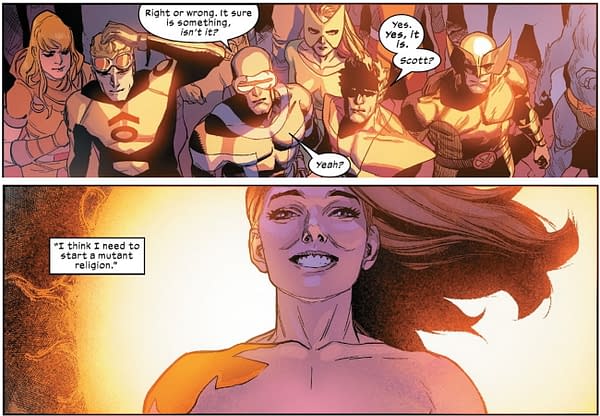 It was a line dropped by Nightcrawler in X-Men #7 but then, as with many X-Men plots, deliberately dropped to be picked up at a later date.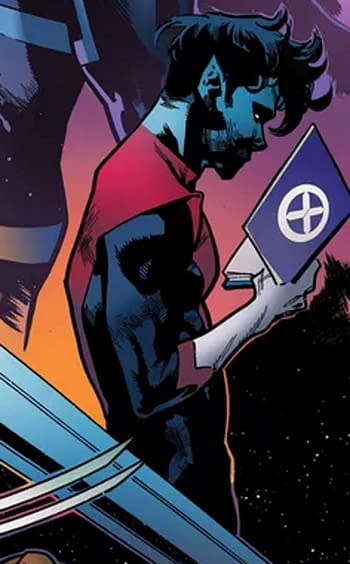 There was that tease in the Reign Of X image that suggested such. And it might make sense of certain teases in recent issues of Hellions, titles courtesy of Nightcrawler: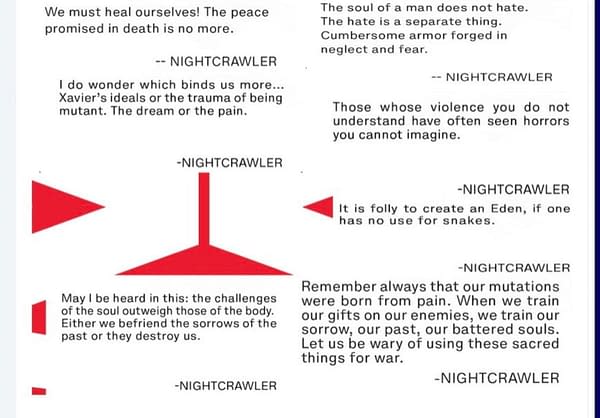 There was also a scene in X-Force #12, with the Xeno Russians, experimenting with the body of Quentin Quire, in X-Force #12. Quentin was killed by a Russian infiltrator, who stabbed Quentin with the Cerebro Sword and pushed him into a gateway to land at the feet of Mikhail Rasputin, who intended to use Quentin's body for genetic experimentations.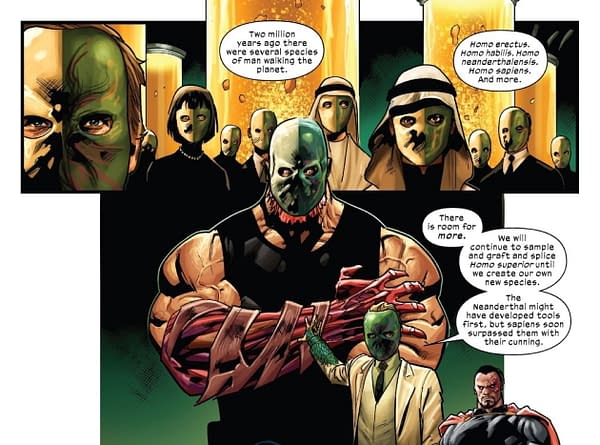 Is what they may have created, revealed in Way Of X?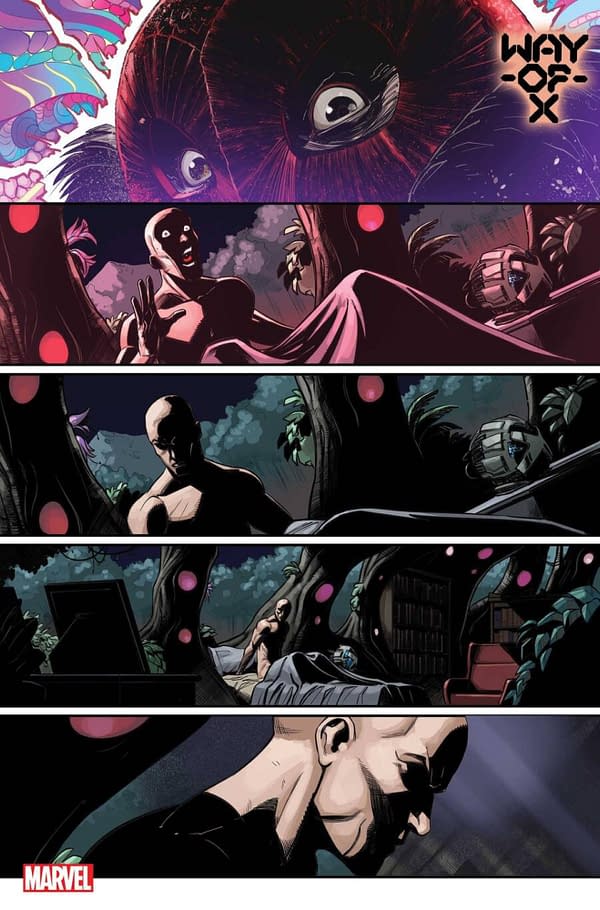 Si Spurrier has some further notes to share.
"I hoped to learn what we ought to believe. I learned instead how we ought to live." You really, really need to pre-order this.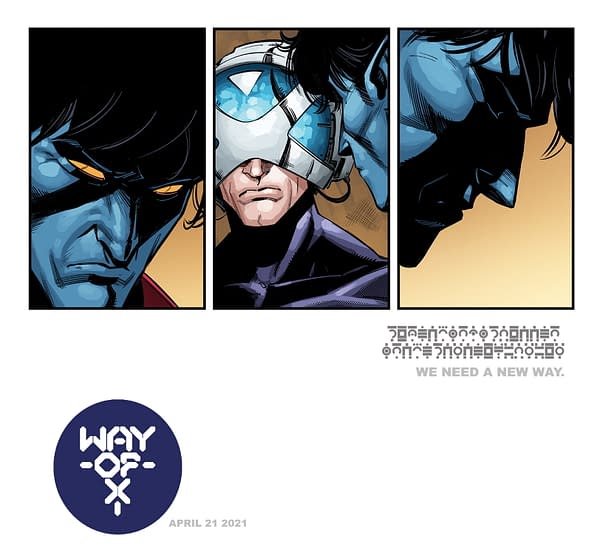 Quoth the Sagan: "Skeptical scrutiny is the means, in both science and religion, by which deep thoughts can be winnowed from deep nonsense"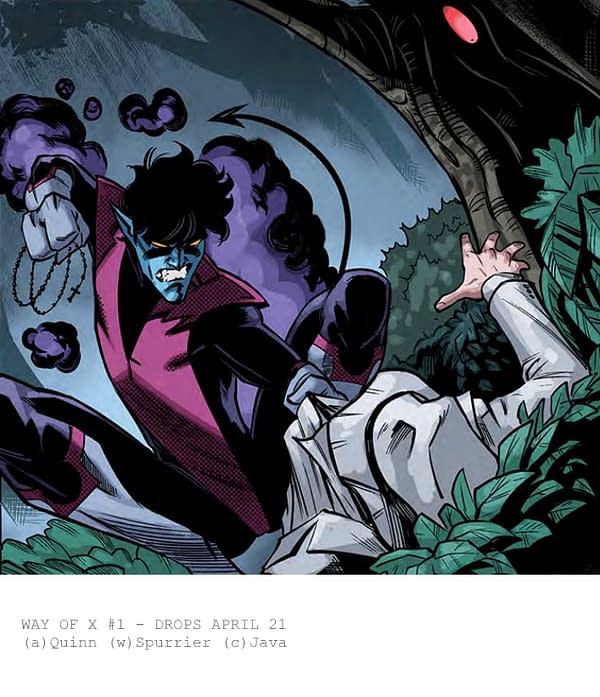 "All right, one more, just for fun: Let us speak of serpents."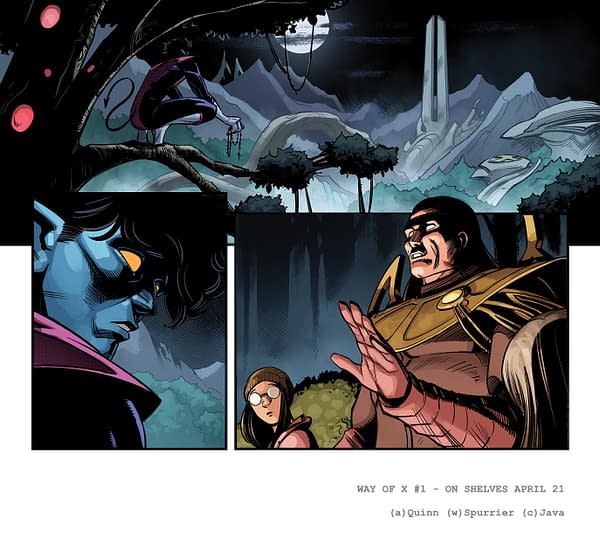 "Before The Sermon"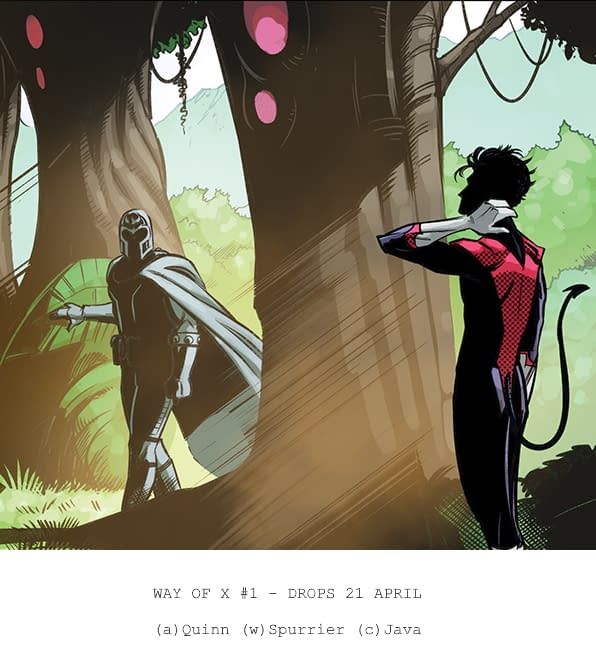 Way Of X #1 is published by Marvel in April 2021. And going to FOC this weekend.