Today is Benjamin Percy's final issue in his truncated run of Nightwing, and it's a corker, with Richard Grayson, having been shot in the head, now a very different person, with different wants, desires – and names. Nightwing #50, out today…
For those of you still invested in the Barbara Gordon/Dick Grayson relationship… yeah, you're not going to like this one.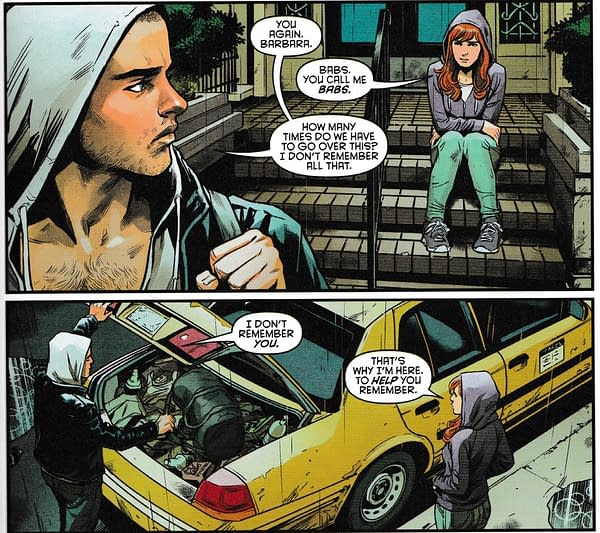 And as for his name, it's all a bit up in the air… with a mockingbird to boot.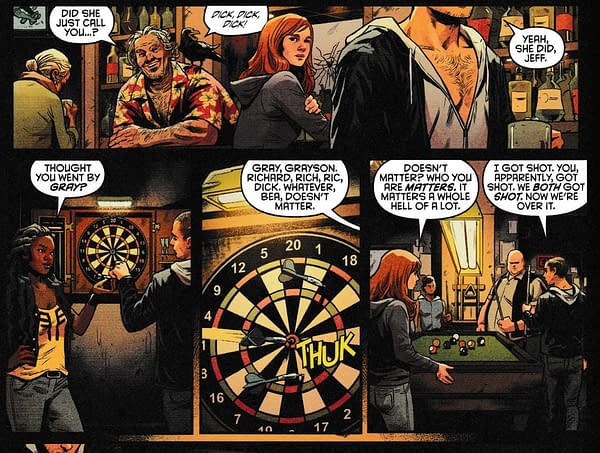 He doesn't even remember the Killing Joke… though I have heard that there are some people who might envy him in that.
Out today, with Chris Mooneyham and Travis Moore creating a solid difference between the pre-and-post shooting works for Dick Grayson. Sorry, I mean Gray. The new paper stock works as well, gave me an appropriately Norm Breyfogle feel for the past.
NIGHTWING #50
(W) Ben Percy (A) Chris Mooneyham, Travis Moore (CA) Mike Perkins
"Knight Terrors" begins here! The big issue #50 kicks off an epic four-part story that brings together critical moments of fear and doubt from the past and the present. A young Dick Grayson hopes to escape the shadow of the Bat and earn the title of Nightwing, while an older Dick Grayson must deal with a blow he did not see coming. A common enemy unites the timelines: the Scarecrow, as you've never seen him before! This story goes deep into the mythology and nightmarish development of Dr. Jonathan Crane. In Shops: Oct 03, 2018 SRP: $4.99
But he'll always be Dick to someone – from today's Batman #56…

Enjoyed this article? Share it!