When Occupy Comics Occupied Forbidden Planet, New York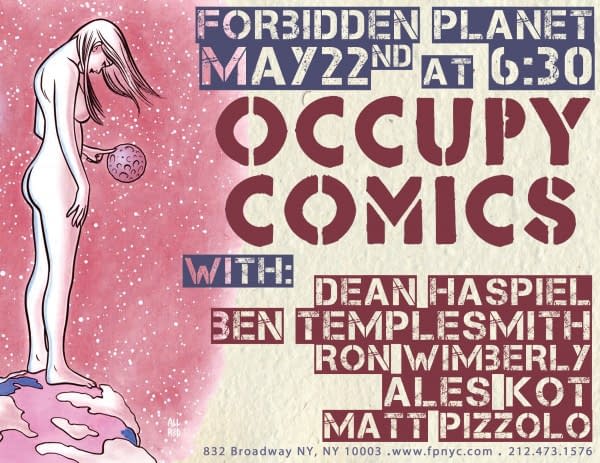 By Hannah Means-Shannon
The much anticipated first issue of Occupy Comics published by Black Mask Studios reached shops in digital and print format on Wednesday May 22nd, bringing with it the promised chock-a-block contributions from remarkable creators in the field supporting the mission of the originally Kickstartered project: to "attempt to add the voices of comic book artists and writers to the chorus of "We are the 99%."'. Forbidden Planet in New York City hosted a launch and signing to spotlight the ambitious series' arrival in the city where the Occupy Wallstreet movement inspired it. There was plenty of hubbub to greet several contributors who participated in the signing, including Ales Kot (Change/Suicide Squad), Dean Haspiel (The Alcoholic, Cuba: My Revolution), and Ron Wimberly (Prince of Cats/Sentences). Ben Templesmith (10 Grand/30 Days of Night) couldn't make the event due to a date with a plane bound for Phoenix Comic Con, but signed a hefty stack of books ahead of time to support the launch. Kot, Haspiel, and Wimberley did as much sketching as signing as fans cued up throughout the hour and a half event and formed a mini occupation of their own at FPNYC.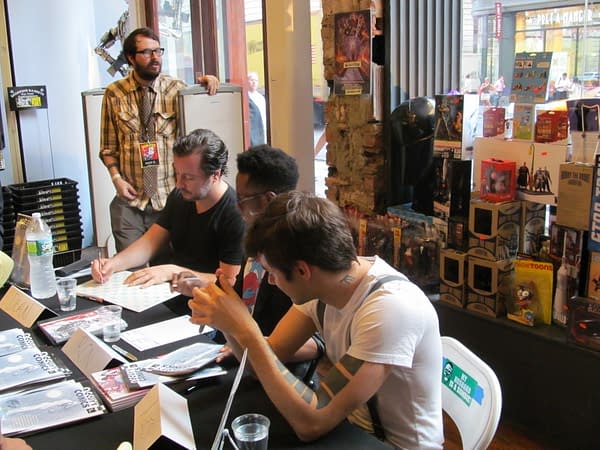 Thumbing through Occupy Comics #1 is enough to give you a pretty strong sense of why this project has been so important and just what issues the contributors have hoped to address in their work and what the goals of organizers Matt Pizzolo, Aaron Colter, and Steve Niles seem to be. From an opening illustration by Charlie Adlard depicting faces gagged from speaking by dollar bills in a cityscape, to historically-themed discussions of economic depressions past and present, it's clear this comic is not about building a platform for self-promotion but rather a wide-ranging venue to offer an alternative to media spin about the financial crises still at hand. Many charitably created comics contain donated work from supportive artists and writers and the proceeds benefit their respective causes, but what's unusual about Occupy Comics is that every page contains work crafted around a message, forming its own anthology of voices urging readers to think about the Occupy movement rather than just support it through purchasing a comic. With 15 elements in the issue, ranging from illustrations by David Lloyd and Art Spiegelman, to full comics composed by single creators or in equally all-star teams, Occupy Comics displays a kind of caché in pro supporters that makes it very hard to ignore. Alan Moore's opening instalment of a prose essay on the history of comics from a grassroots perspective also acts as an educative element in issue #1 to suggest that comics have been capable of voicing dissent all along, and should once again be recognized as a powerful medium for social change.
All in all, issue #1 makes an unforgettable statement from the comics community that doing something to create a message and spreading it is preferable to simply standing on the side-lines and considering the pros and cons of protest movements. To have contributors coming out in the flesh to show their visible support only strengthened the message on opening day for Occupy Comics #1 at FPNYC, that comics are an appropriate medium to respond to social need, and may even be one of the best suited to reach a discerning public.
Hannah Means-Shannon is a comics journalist and scholar working on books about Alan Moore and Neil Gaiman for Sequart.org. She is @HannahMenzies on Twitter and @hannahmenziesblog on WordPress.