SE: NYC '15 – When People Try To Buy NYCC Tickets At NYC (UPDATE)
Derek Trum is reporting on the show floor of Special Edition NYC in New York today, for Bleeding Cool. Give him love.
As the doors opened everyone rushed the area to buy tickets for this year's NYCC. Within 10 minutes a line formed that went all the way to the entrance. As people came in they just filed in to the ticket line. Quickly organizers capped the line and are now trying to discourage attendees from forming a second line. Tickets are set to go back on sale at 11am. As fans refuse to leave the area, it is already starting to ugly.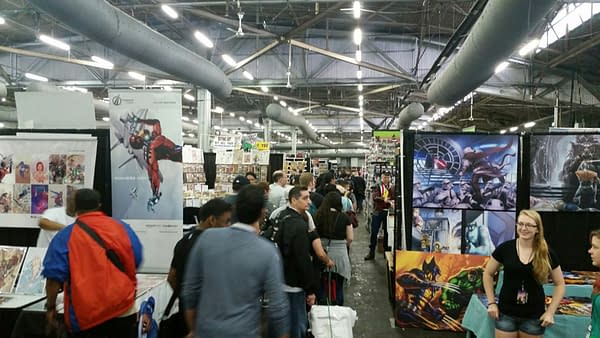 You can read more coverage from Special Edition: NYC 2015 right here.
UPDATE: Derek adds:
The lines have reopened for ticket sales for NYCC. The crowd of people is reminiscent of the lines you see for people waiting to get inside the con. Two separate lines wrap around the perimeter of the convention floor. At this point there isn't even a guarantee that all will get a chance to purchase a ticket. It's disappointing to see so many people's con experience so far is to just be in a line for another con.