Killmonger has thus far been a pretty great series, especially for being a mini-series at Marvel, where those don't tend to count much. Building off Michael B. Jordan's performance in the Black Panther film (and bringing the comic book character a little more in line with his cinematic version), the series looks back at Killmonger's time before he returned to Wakanda. Along the way, he finds himself aligned with a team of killers working for the Kingpin and named after chess pieces. After Rook is killed by Bullseye when Kingpin betrays them, King retreats to his rural hideout while Knight makes a deal with the Black Widow and S.H.I.E.L.D.. But Killmonger, feeling loyalty to King, wants to warn King rather than turn him in, and then he wants to run off with Knight to Wakanda.
King isn't too pleased with this turn of events, but Killmonger points out that King's white privilege affords him a lot more options…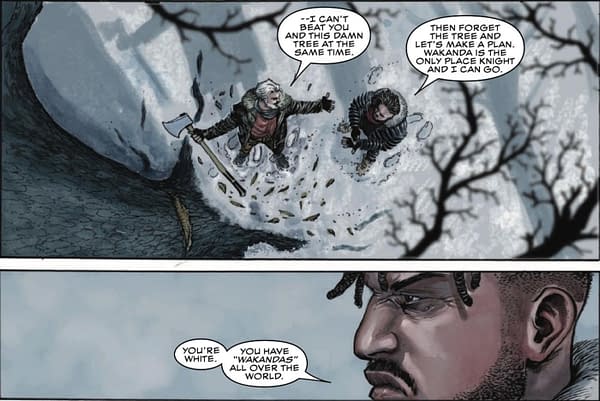 We get what he's saying, but Wakanda is definitely cooler than, say, Portland.
Of course, it's a moo point because while King and Killmonger are chopping firewood, Knight has contacted SHIELD and they're on their way. Tragedy, no doubt, awaits in the penultimate issue of this series.
This preview appeared first as an EX-X-XCLUSIVE on the AV Club, but EX-X-XCLUSIVE turns out to be a relative term.
Killmonger #4 hits stores next Wednesday.
Killmonger #4 (of 5)
(W) Bryan Edward Hill (A/CA) Juan Ferreyra
THE CAT AND THE SPIDER!
Erik Killmonger came to New York for revenge. But now everything is crumbling around him. Ulysses Klaw – the man he came to kill – has disappeared. Wilson Fisk, Killmonger's new employer, has set the deadliest assassin in the city on his trail. And now, Erik's band of killing comrades is inches from the Black Widow's fangs. The hourglass is running out, and Killmonger has nowhere left to turn.
Parental Advisory
In Shops: Feb 06, 2019
SRP: $3.99
Enjoyed this article? Share it!