Who Killed The Watcher? Original Sin, Marvel's Big Summer Event By Jason Aaron And Mike Deodato Tomorrow's All New Marvel Now Point One #1 comic will tease Original Sin, a new series by Jason Aaron and Mike Deodato that was, well, what was being teased a while ago. A Death of The Watcher kind of affair.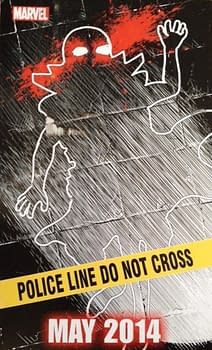 The USA Today reports,
When the all-seeing, all-knowing Uatu the Watcher is found dead in his lunar lair, the Avengers and the rest of Earth's superheroes scramble to keep their deepest and darkest secrets from being revealed, in Marvel Comics' annual major crossover event Original Sin, launching in May…

Written by Jason Aaron and drawn by Mike Deodato Jr., the main Original Sin series runs eight issues over four months and focuses on the search for the culprit.

Former S.H.I.E.L.D. super-spy Nick Fury is "the grizzled Marvel superhero version of an old homicide detective" who assembles Captain America, Iron Man, Thor and others for the main manhunt, Aaron says. Meanwhile, another group including the Punisher, Doctor Strange, Emma Frost, Ant-Man and Black Panther conducts its own investigation.

The bigger problem, though, is whoever killed the Watcher also ransacked his place on the moon, stealing powerful objects as well as all the information he's been gathering since the beginning of the Marvel Universe…

A special Original Sin zero issue in April by writer Mark Waid and artist Jim Cheung acts as a prelude, focusing on the strange yet emotional kinship between the Watcher and the young hero Nova.
Looks like it will be tying in with… whatever it was that was going on in the first Marvel Now Point One #1 in Uatu's lair. Also, All-New Invaders #6 and #7 will also be tying in.
This is, of course, the second Marvel event called Original Sin, the last one ran in the X-Men books. And was mostly drawn by Mike Deodato as well… I wonder if he's getting deja vu?
No-so-Original Sin? And are Punisher, Doctor Strange, Emma Frost, Ant-Man and Black Panther suspects rather than investigators?