Bleeding Cool has covered the variously named publishing company of Darren G. Davies for many years, and have been heavily critical of their output, their contracts, their relations with creators, and even the name of their company.
But whether as Bluewater Productions, Stormfront, Storm or Tidal Wave, this may be the highest profile criticism to date. With William Shatner, creator of TekWar and licenced to Davies's publisher for adaptation into comic books. Or at least they used to be.
TekWar is a series of science fiction novels created by Shatner and ghost-written by American writer Ron Goulart, published by Putnam. The novels gave rise to a comic book series, video game, and later TV movies and a series, both of the latter featuring Shatner.
The 22nd century universe is centered on "tek"—an illegal, addictive, mind-altering digital drug in the form of a microchip. The drug has the effect of simulated reality, and taps into "the matrix" hyperspace. The protagonist, Jake Cardigan, is a former police officer who is framed for dealing in the drug four years before the start of the story. Having been sentenced to 15 years' cryo-imprisonment, he is released early. After discovering that Walt Bascom, the powerful head of a private security firm, arranged for the early release, Jake goes to work for Bascom as an investigator dedicated to tracking down the real Tek lords.
Shatner began to write notes that would become the novels on the set of Star Trek V: The Final Frontier, and has been quoted as saying that the original book was an attempt to blend elements from Star Trek and T. J. Hooker.
And so when a digital comics distributor put up copies of the TekWar comics under the Tidal Wave imprint, he boldly went to Twitter.
Hi! Just as an FYI. @TidalWaveProd no longer has the rights to reproduce this comic. Their rights under Blue Water expired years ago and my letters, phone calls & emails have been all ignored. Please cease & desist enabling this company from pirating this comic. Thank you. https://t.co/Q3OBJMm3T4

— William Shatner (@WilliamShatner) December 21, 2017
The distributor took the comic books down.
We note it is still being offered through Amazon's Kindle and through Hoopla as coming from Storm Entertainment.
Does Mr. Shatner have a few more letters to write?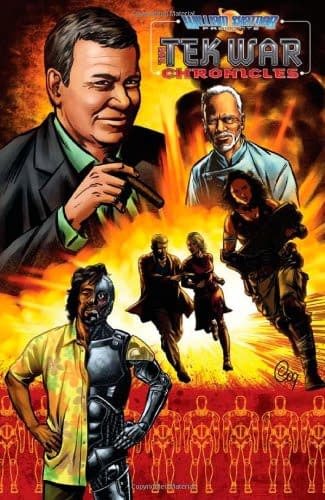 Enjoyed this article? Share it!