Jesus Merino draw Wonder Woman #77 published today. But he was also due to draw #76 a couple of weeks ago, drawn by Lee Barnett instead. He was also solicited to draw #78 and #79 and that's changing too.
Wonder Woman #78, out on September 11th is now being drawn by Tom Derenick and Trevor Scott.
And Wonder Woman #79 now drawn by Scott Eaton and Wayne Faucher out on September 25th.
Xermanico is meant to take the series on for #80 and #81 with Jesus Merino returning for #82 and #83. That's the current plan anyway.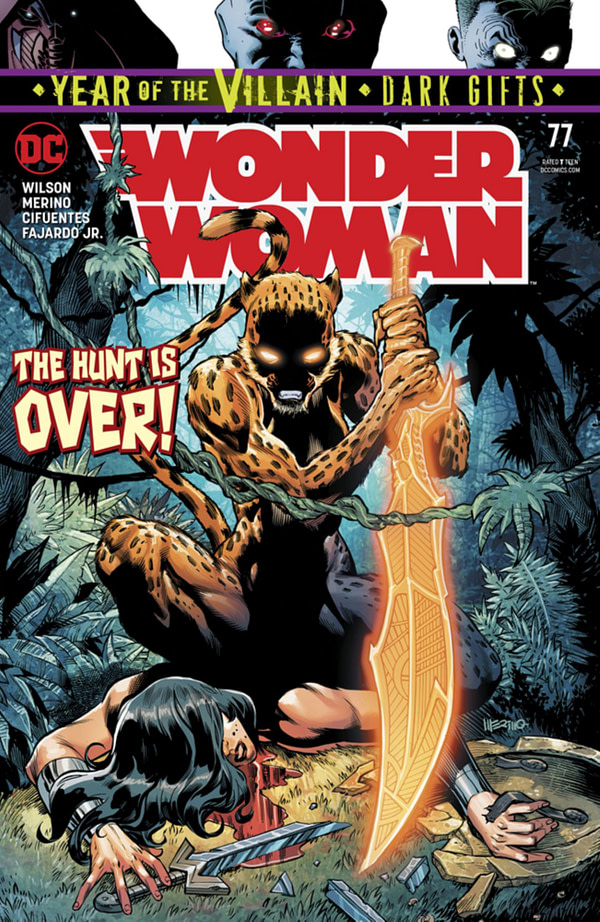 WONDER WOMAN #77 YOTV DARK GIFTS
(W) G. Willow Wilson (A/CA) Jesus Merino
The Greek god Hephaestus forged the mythological sword called the God Killer. With its eldritch energies, the sword's wielder can lay waste to armies and, most notably, slay even the mightiest of immortals. Meet its new owner: Cheetah. And that spells bad news for Wonder Woman…In Shops: Aug 28, 2019
SRP: $3.99

WONDER WOMAN #78 YOTV
(W) G. Willow Wilson (A) Tom Derenick, Trevor Scott (CA) Jesus Merino
Her fabled bracelets shattered, her will broken, Wonder Woman…defeated? The wrath of Cheetah has been unleashed and, armed with the fabled Godkiller sword, even Amazons will fall before her!In Shops: Sep 11, 2019
SRP: $3.99

WONDER WOMAN #79
(W) G. Willow Wilson (A) Scott Eaton, Wayne Faucher (CA) Aaron Lopresti
Must a world without love be one without our hero? Wonder Woman is forced to discover a new way to fight after the destruction of her golden lasso and unbreakable bracelets at the hands of Cheetah and her God Killer sword. How can she possibly stop the unstoppable?In Shops: Sep 25, 2019
Final Orders Due: Sep 02, 2019
SRP: $3.99