Dynamite has sent us a writer's commentary for their new Charmed series by Erica Schultz and Maria Sanapo. Here Schultz talks about the first issue that brings back the Halliwell Sisters. Cover by Joe Corroney. First of all, I'd like to thank Maria Sanapo, Heartwork Studios and Tom Napolitano for their amazing art and design work on this book. And I'd like to thank Dynamite for asking me to be a part of the Charmed universe. My hope is that fans of the show and fans of comics in general pick up these books and find the same adventure, action, humor and ass-kicking fun that the Charmed television series had for so many years!
Page 1
One of my main goals in writing these Charmed books is to have fans say, "Wow! That felt just like an episode of the show!" As a huge fan of the show myself, I knew that virtually every episode had a scene in an alley with the Halliwell (and Matthews) sisters fighting some type of evil. We would be remiss if we didn't have that same setting in the comics.
It also helps that Maria Sanapo captures Paige Matthews' snarky looks beautifully.
Page 2
Another hallmark of Charmed was the sisters getting in over their heads. Here they've clearly underestimated the demon they've chased down. Where they thought there was one is now one plus six. But don't worry…These girls know how to kick some serious ass!
Page 8
What would a Charmed episode be without visions of The Underworld dancing in our heads? We have to put in the devious demons plotting the demise of the three most powerful witches there ever was! Isn't that what Charmed is all about? Well that, and…
Page 11
The Halliwell Manor is a character in itself and plays a very important role in the San Francisco of Charmed. The beautiful home is the home base of The Charmed Ones, and its attic houses their famed Book of Shadows. It's also where all three sisters live, and where a lot of the family drama (and demon attacks) occurs.
One of the things that made Charmed so great was that the sisters seemed real in the way they interacted with each other. Siblings fight and argue over petty things and important things, alike. Charmed captured that sibling rivalry and made it part of the show, giving it heart.
Page 19
This is where we get the first glimpse of the evil plot that is afoot in this story. The paintings are portals into which demons can enter our world and inhabit humans. Think Invasion of the Bodysnatchers meets The Halliwells. And before you think, "What's one painting going to do?" Well…
Page 22
As you can see…Djall has planned for that, as well! Enjoy!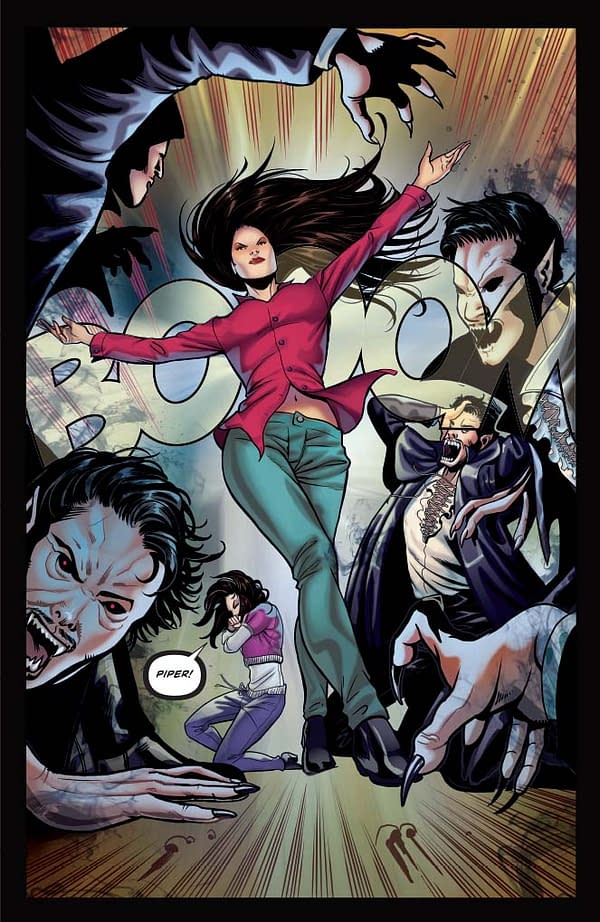 Enjoyed this article? Share it!