We have a new writer's commentary from Gail Simone for Red Sonja / Tarzan #2 being published by Dynamite Entertainment. The issue comes with covers by Aaron Lopresti and Walter Geovani with interiors from Geovani, The issue hits comic shops today.
* * * * *
First, I think I talked about this in the commentary for issue one, but the covers to this book remind me very much of why I love writing comics. For whatever bizarre sequence of reasons, I have always been in the enviable position of being able to choose the projects I WANT to do, rather than simply choose from a meager selection of what might be available on a given day. And this book is completely that, that tremendously delightful feeling that I get to write things that bring me joy.
My biggest hope is that it does the same for other readers.
I love pulp fiction, I love sweaty, saucy, brutal adventurers. I may be best known, perhaps, for writing female characters, but I absolutely love writing the Conan/Catman/Tarzan types as well. I want to treat them with respect, I want them to feel as intractable in my stories as they have been in their past glories. I don't feel the need to mushy them up, rather, I want them to stand tall and present them in the best manner I can manage.
Tarzan and Red Sonja are both tremendously important to me, so it was vital that I do this respectfully. At the same time, I wanted it to feel a bit like those classic Superman/Spider-Man team ups, like a real event. I hope you enjoy!
PAGE 1:
What I love here is Walter Geovani's tremendous acting ability. I wanted a coldly furious Tarzan and a Red Sonja who is almost a spectator to his rage. Above all that, they had to be recognizably their savage selves despite wearing period clothing and showing the reserve of that era. Just magnificent work by Walter.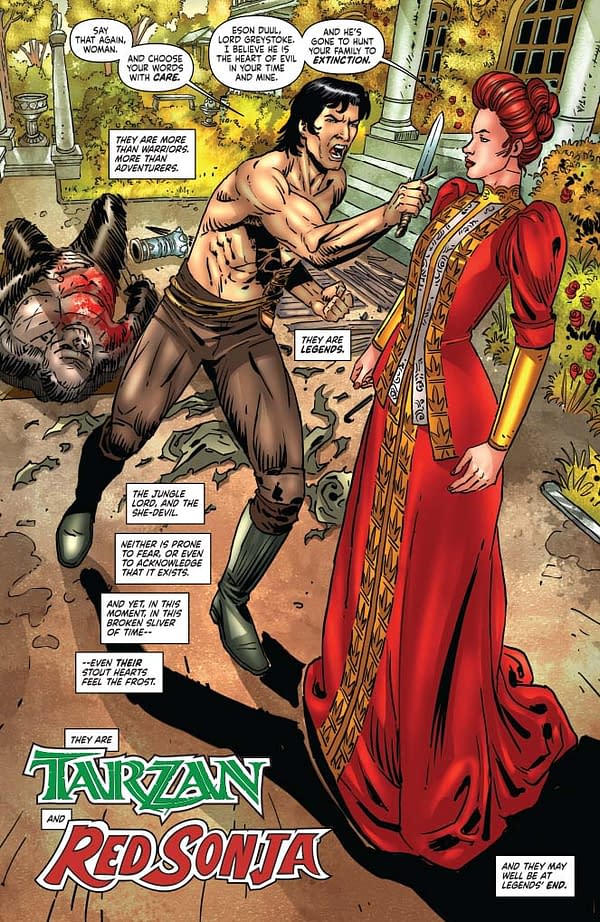 PAGE 2:
The Waziri are one of the most interesting elements of the Tarzan story, usually left completely out of many adaptations. I've talked about this before, but they are actually the first humans who adopt young Tarzan, and even in the less-perhaps-enlightened times, Tarzan tends to trust them more than the European relations and hangers-on he encounters later. They are still laden with the 'noble savage' trope, certainly. But I think they are one of the most humanizing and potentially powerful elements of the Tarzan myth and I couldn't wait to write them.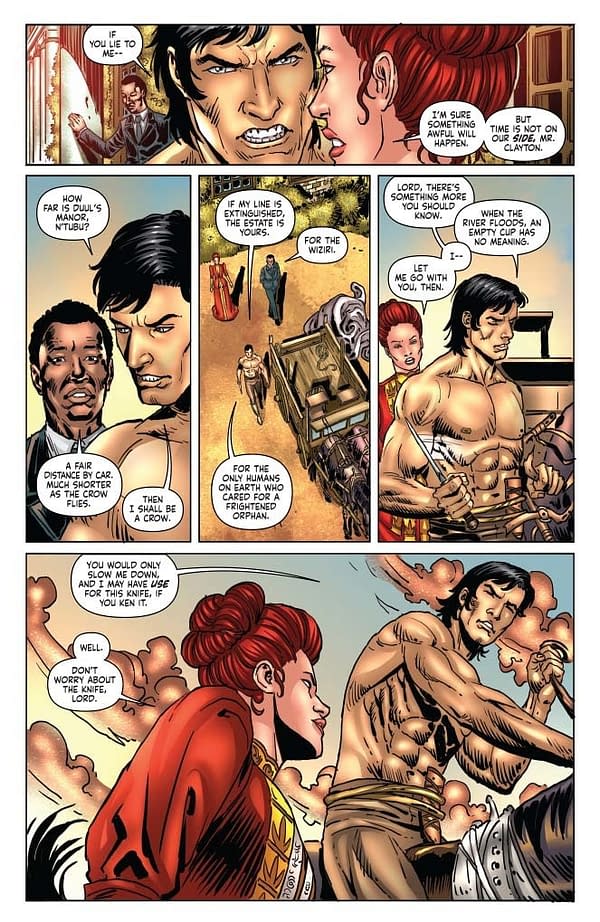 PAGE 3:
This whole thing of bustles and corsets…it's not at all inconsequential. Despite the resurgence of popularity of such restrictive wear, at this time in history, women had been routinely dying from their use for quite a long time. For Sonja, the idea that a chain mail bikini is less 'civilized' than these wired torture-device undergarments would have made her laugh out loud.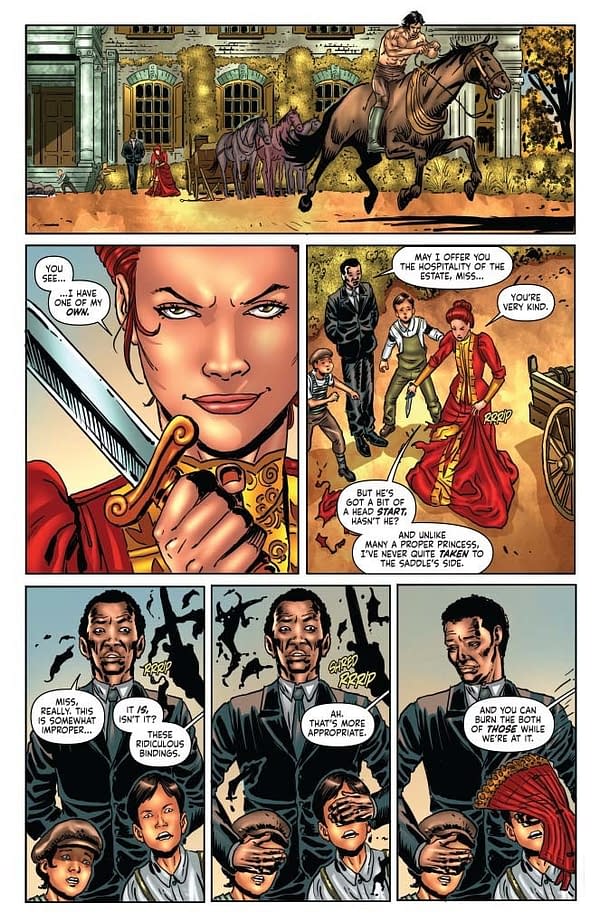 PAGE 4:
Never try to outride a Hyrkanian.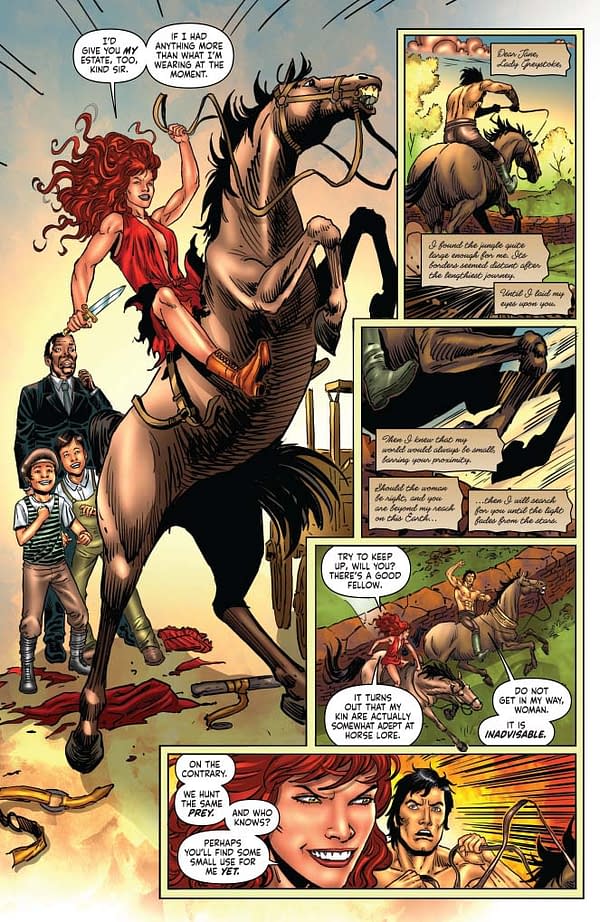 PAGE 5:
In the original stories, Burroughs tended to save Tarzan's full on savagery for fighting animals. When he dealt with human beings, Tarzan came from a position of such intense physical superiority, that the 'fights' were generally short, and sharp, the victim beaten before he could even be aware.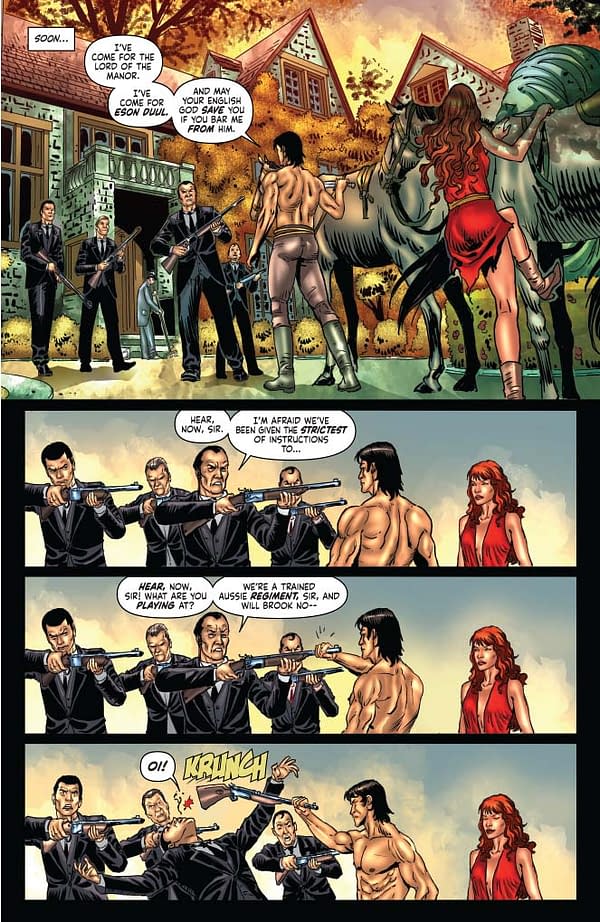 PAGE 6:
Sonja has time-traveled more than once, and it seemed cheesy to not keep those stories in continuity, so she does have some awareness here.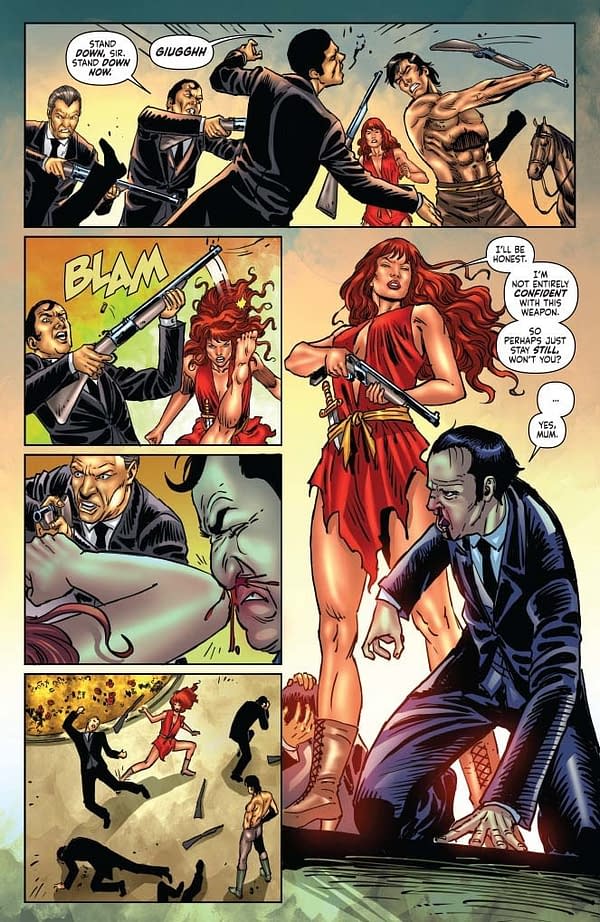 PAGE 6:
Okay, this is what I have been waiting to write…Tarzan as LORD OF THE JUNGLE. Loved it, I was having SO MUCH FUN here.
PAGE 10:
And here they go, possibly the greatest pulp adventure heroes of all time. From the two biggest writers in pulp fiction. ACK, I love this stuff.
PAGE 12:
I don't have a lot of commentary for this, but of all the gabillions of fight scenes I have written, this is one of my absolute favorites. Great characters, great artist, historic pairing, it's just too much fun. I don't usually like to clutter fight scenes with too much narration, but it seemed fitting and necessary here to attempt to emulate a BIT of Burroughs and Howard!
PAGE 15:
Maybe my favorite element of these two together is the sudden understanding they have that they face the only other person on Earth as stubborn as they are.
PAGE 18:
I do a little writerly conceit here…talking about the villains without actually showing them the entire issue. This is a technique that requires a bit of finesse, the idea is that, their presence has to be keenly felt even if they are not on the page. Eson Duul is such a massive ******** that he can carry that off, and the element of dread is heightened.
PAGE 19:
I love this take on Sonja, great job by Walter. Also, I wonder how Sonja would view London of this era, with the impossible poverty all around her. I wonder if she would feel we had really progressed from her era.
PAGE 20:
I put H.G. Wells in here because I find him fascinating, but also because he's a perfect conduit to get Tarzan and Sonja back into the correct timeline. Sharp-eyed readers might see a little item that hints at an interesting connection between Wells' most famous creation, and ERB's SECOND most famous.
PAGE 22:
This is the Time Machine, of course, from my favorite Wells story. I think the promise of timeline shenanigans with these two heroes is possibly the funnest element of the book. Also, terrific page by Walter again!
I had tremendous fun with this issue. It's a delight to me that I keep getting asked to write these pulp fiction characters that I love so much. Hope you all enjoyed yourself, as well!
Enjoyed this article? Share it!