X-O Manowar #17 [Late] Review: Historical Fiction Interrupting the Sci-Fi
[rwp-review-recap id="0"]
Aric of Dacia has just been saved from the wrath of the Romans by his new friend Sabbas. On their trip to the next destination, Sabbas explains how he came to be here, riding with the Forgotten Warriors of Thamud and encountering the Lost Ninth Legion. Aric and Sabbas sail for Rome itself, but they find themselves pushed into the gladiatorial arena.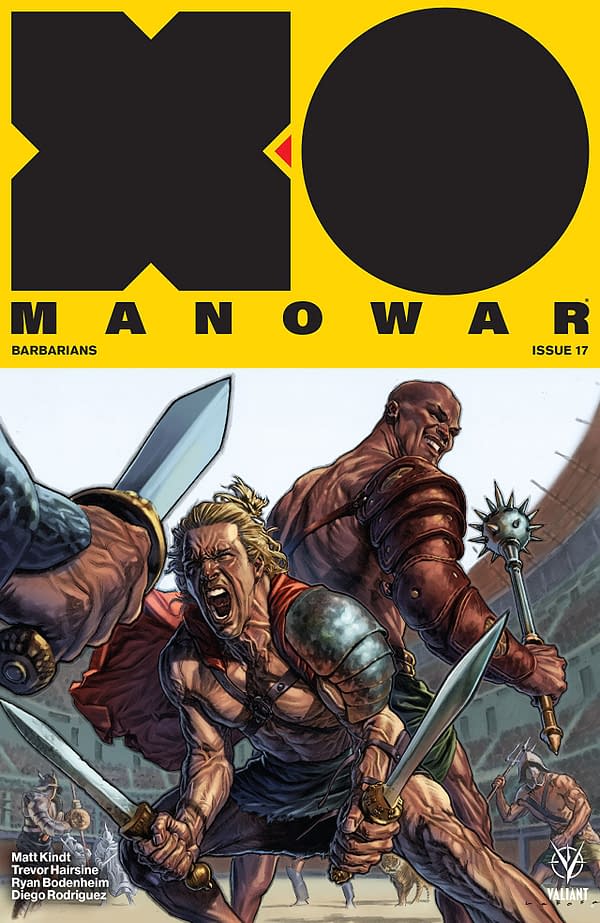 X-O Manowar #17 continues the story of Aric and Sabbas meeting in the time of the Roman Empire. I'm still a little off-put by this fairly dry and straightforward historical fiction being dropped into this otherwise high sci-fi title, and it's nakedly a holding pattern while Harbinger Wars II finishes up.
It's not badly-written; Matt Kindt is as talented as ever. Aric isn't an especially interesting character in this tale. He's single-mindedly searching for the young brother of his friend. The catch of the story is that it's supposed to be Shanhara explaining how Aric's situation in the past mirrors the struggle of the Psiots in the present. The comparison is there, but it doesn't make the story anywhere near as compelling as the previous X-O Manowar stories.
Sabbas is charming but shallow too. He has his visions and a sense of humor but little more.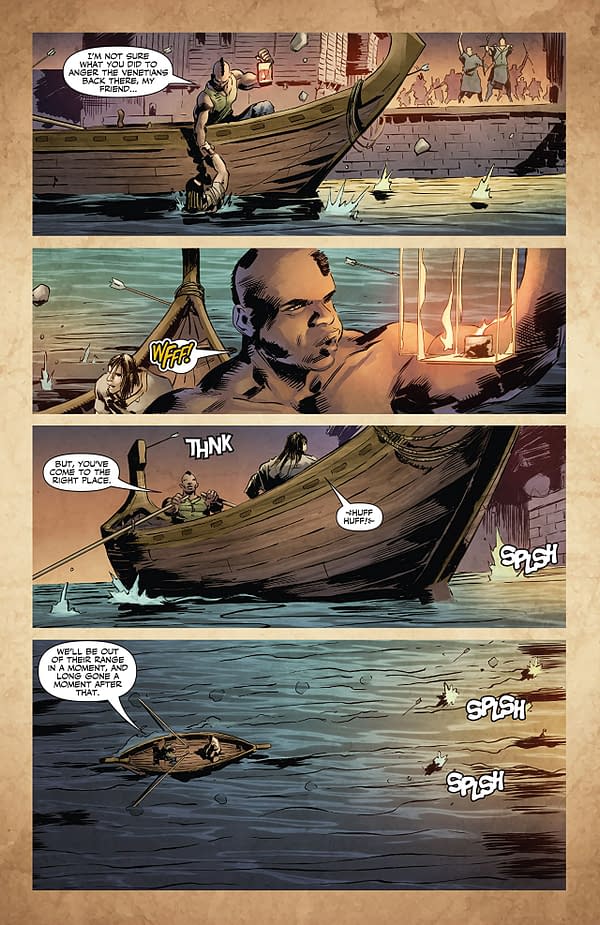 Trevor Hairsine and Ryan Bodenheim both do some good work here; Valiant continues to benefit from keeping a pool of very talented artists on tap. The world is unforgiving, and the characters look impressive and imposing. Brian Thies inks it all quite well, and Diego Rodriguez and Andrew Dalhouse give the world a barren atmosphere.
X-O Manowar #17 isn't a particularly interesting read. Aric and Sabbas have some decent interplay, and the artwork is great. Beyond that, this issue is a bit dull. I can recommend it to the X-O Manowar diehard fan who love Aric, but I can't suggest it for anyone else.
[rwp-review-ratings id="0"]
[rwp-review-form id="0"]