Amazon Luna Announces Several Games Being Added In January 2022
Amazon announced several games will be making their way over to the Amazon Luna library this month, including some Ubisoft games. The titles that will be coming include Adventure Time: Pirates of the Enchiridion (Family Channel), Chorus (Luna+), Devil May Cry 5 (Luna+), Disc Room (Luna+), DreamWorks Spirit: Lucky's Big Adventure (Family Channel), Judgment (Luna+), Katana ZERO (Luna+), Myst (Luna+), Kine (Luna+), Monopoly Madness (Luna+), Yakuza: Like a Dragon (Luna+), and Rainbow Six Extraction (Luna+). You can read more info about the additions below from the team, as they go deeper on the Ubisoft additions.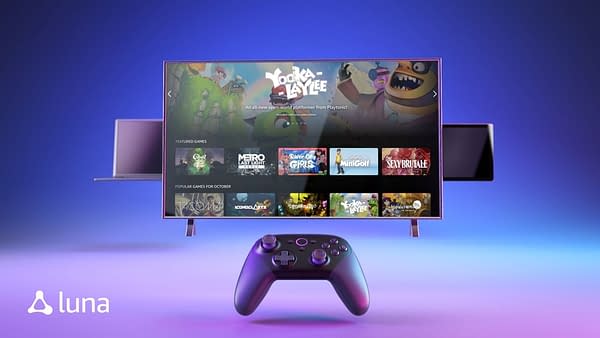 Kine is a heart-warming 3D puzzle game about three daring machines that aspire to be musicians. Embark across a theatrical dreamscape by solving a wide variety of increasingly difficult 3D puzzles while enjoying an award-winning soundtrack. Guide Euler, Quat, and Roo as they struggle to form a band and find their big break! Kine will launch on the Family Channel in January (rated E for Everyone). Our favorite Real-Estate Mogul is going on a well-earned vacation and he's looking for a temporary stand-in. The method of selection? A race for fame and fortune. This time the rules have slightly changed. Monopoly Madness brings the Monopoly experience into the arena for the first time ever. Roam the chaotic streets of Monopoly City, collect resources, buy and upgrade properties, mess with your opponents, and avoid their tricks to win the race for riches. This is madness! Monopoly Madness will launch on the Ubisoft+ Channel in January (rated E for Everyone).

With development being led by Ubisoft Montreal, Rainbow Six Extraction is a PvE co-op experience where you and up to two other players can form a squad composed of Rainbow Six Operators who have joined Ash, Mira, and Thermite to form the Rainbow Exogenous Analysis and Containment Team (REACT).

As the next mainline game in the Rainbow Six franchise, Extraction offers plenty of exciting new features while building on tactical gameplay elements introduced in Rainbow Six Siege. To confront and eventually contain a growing alien threat known as Archæans, your squad can choose from a roster of 18 Rainbow Six Operators, each with their own set of gadgets, weapons, and abilities. Try different combinations of Operators to open new strategies to approach the Archæan threat in each of Extraction's 12 maps. Set across four regions in the United States, these maps feature procedurally generated challenges, a diverse set of enemies, and infestations with increasing difficulty the further you go in the map, to keep your REACT squad on its toes and test your teamwork. Rainbow Six Extraction will launch on the Ubisoft+ Channel on January 20 (rated M for Mature 17+).