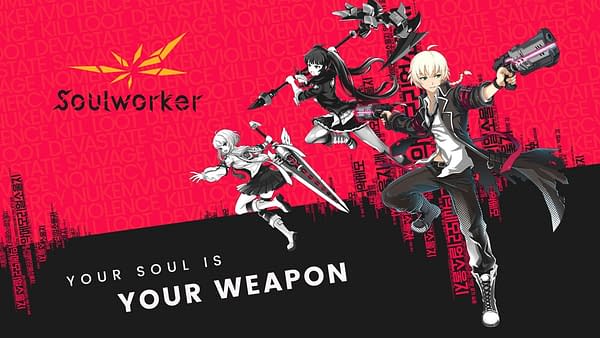 Korean game studio Lion Games' free to play anime action MMO SoulWorker is finally coming to North America and Europe, later on in March. Ahead of the game's release, players can jump into the game during an open beta phase which is running now until the game launches.
SoulWorker is a post-apocalyptic action-adventure game with anime-inspired graphics, and has been available on the Asian market for some time now. During the Open Beta Test, four characters will be available for players to use to experience SoulWorker's story-rich PvE single-player mode or 4-player PvE co-op mode.
As a thank you to all those who participate in the beta and provide feedback on the game, players will receive special rewards which includes a unique primary in-game character title, a special outfit, rare editions of cards, bonus key cards, and more which will all carry over into the full release of the game.
SoulWorker's features during Open Beta include:
Action-packed cooperative gameplay for up to 4 players, using the Soulum Sword, Mist Scythe, Gun Jazz and Howling Guitar character classes
A dark post-apocalyptic setting with a captivating story and impressive cel-shaded animations
Customize your battle style with personalized combos and abilities affected by a unique emotion system — madness, euphoria, vengeance and sadness
Large PvE content with over 100 dungeons and a PvP Zone for massive battles
You can pick up the beta over at Gameforge. Once the game launches in full, you can also pick it up on Steam.
You can check out the gameplay trailer here, or take a gander at the cinematic trailer below.
Enjoyed this article? Share it!