Asmodee To Release Timeline Twist Sometime In Spring 2023
Asmodee has revealed two new board games this week, the first of which puts a spin on a classic with Timeline Twist.
---
Tabletop publisher Asmodee had a pair of announcements this week for new board games, the first of which brings back a classic in Timeline Twist. A play off of the 2012 game Timeless, this one will have you working as a team in a cooperative setting that will have you placing historical event cards in chronological order. There will be two versions released; the first one is a traditional look at the timeline of history, while the second will be a Pop Culture themed one in which you'll have to arrange items from when they were released. Both of these were designed by Timeline creator Frédéric Henry and Corey Konieczka, who designed other tabletop titles such as Battlestar Galactica: The Board Game and Star Wars: Rebellion. Neither version has a release date set yet, but we know it will be released sometime this Spring for $17 each. We got more information on both and a quote from the company about them below.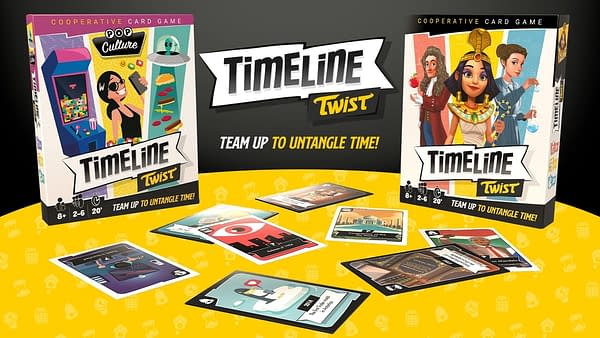 "Timeline Twist features 100 unique cards, each with a different historical event, that players work collaboratively to place on a timeline and earn points. Each team's goal is to correctly place as many of their cards on the timeline before their opponents. Players need more than just historical knowledge to succeed in Timeline Twist, with rules designed to reward strategic thinking and teamwork."
Cooperative Gameplay: Timeline Twist is centered around cooperation and strategy, with an approachable play style for seasoned veterans and newcomers. While knowledge of history is rewarded, players with any skill level can use strategy to succeed.
High Replay Value: Timeline Twist includes 100 unique cards in total but only uses 36 per game, keeping players at the table with different combinations and endless hours of fun.
A Game for All: Timeline Twist is perfect for groups of 2-6 players over the age of 8, with a 20-minute average game time.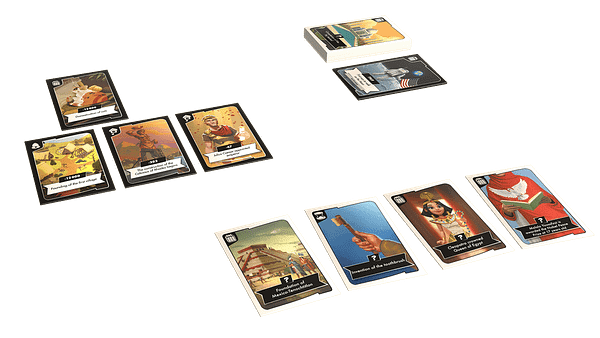 "Timeline Twist is an accessible experience designed to bring families to the table while also offering a challenge to seasoned card game experts," said Frédéric Henry, Lead Designer for Timeline Twist. "Our re-imagined Timeline ruleset rewards teamwork, creating an approachable environment where everyone feels welcome. Timeline Twist is perfect for players looking to introduce a new title to family board game night."