Atari Mania Announced For Release Before End Of 2022
Atari revealed a brand new game this week as they will be releasing Atari Mania for multiple platforms before the end of the year. Developed by Montreal-based game design studio Illogika, the game will have you playing the role of a caretaker who watches over all of the Atari games released during its 50-year history. One day, some kind of chaos takes over the tome and mixes up all of the games, leaving you to jump in and make sense of the mayhem left behind. The game doesn't have a proper release date yet, but we do know it will be coming out on Atari VCS, Nintendo Switch, and PC. Enjoy the latest trailer down below!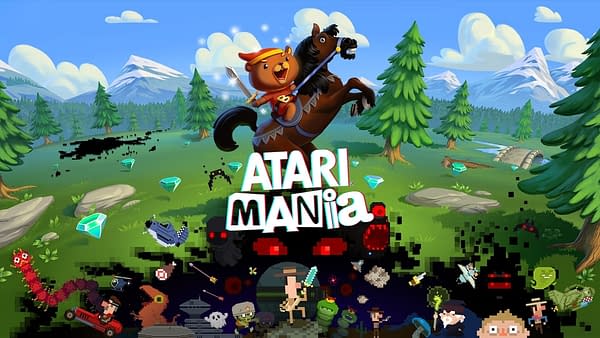 More than just a blast from the past, Atari Mania sees beloved titles merged with one another, reimagined in creative and fun mashups both nostalgic and innovative. Play through a selection of over 150 microgames, each based on beloved classic Atari games from the 1970s and '80s golden era of gaming. Featuring a zany storyline, aid the Caretaker of the Vault and restore order to this prized collection of video game history, all while discovering an Easter egg or two along the way!

Manic Mashups: Over 150 micro games inspired by the breadth of Atari's decades-spanning catalog from Asteroids to Yars' Revenge. Fight back Centipedes with a Pong paddle while the iconic Adventure dragon hunts you down! It's crossover madness in the best way possible!
Excellent Exploration: Solve tricky puzzles and utilize clever tools to progress through the Vault and discover classically-inspired Atari Easter Eggs.
Pixel-Perfect Pizzaz: A charming neo-retro art update to the classic Atari 2600 style is completed by a soundtrack of retro-inspired jams.
Characters Like You've Never Seen Them Before: Go face to antennae with some of the greatest games and characters in video game history. Trust us — you'll never think of Bentley Bear the same way again!
Treasure Trove of Atari History: Collectibles abound, including vintage Atari art, posters, manuals, and fun facts. Fully playable versions of remastered Atari classics are unlocked by completing cheeky challenges.