AtGames Releasing a Series of Retro HDMI Consoles Called Blast!
Today, AtGames announced that they will be releasing a new set of retro HDMI consoles called Blast! that will contain classic '70s and '80s titles. As you can see from these promo images, they're built into what are essentially flash drives with an HDMI output in the end, which then act as the console being plugged directly into your TV. The company has made deals with a few companies, the big ones that stand out are Bandai Namco and Atari, to bring you what is said to be an affordable retro console at $20-40 a pop. But they don't come without issues.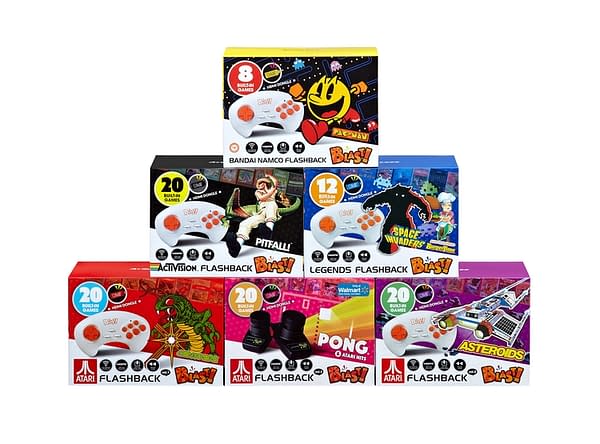 First, let's consider the source, which is AtGames. This is the same company that released the widely-panned retro versions of the Sega Genesis and the Atari 2600 last year. Sega has taken matters into their own hands to remedy that situation, but it was clear after the reviews that you couldn't give those consoles away even if you tried. Second, while these look small and compact, they only once in the PR mention that they're USB powered, and give no options for a proper outlet for power. So unless you're hooking them up to your PC monitor, you're going to have to work out a power option with an adapter that can reach the wall better than what appears to be a 24" cord.
These haven't even hit the market and they already look like they come with problems to use them. If you're still interested in buying one, they hit North American stores on October 1st.