Beadle & Grimm's have revealed their next D&D Platinum Edition will be for the upcoming adventure, Icewind Dale: Rime Of The Frostmaiden. Like previous sets before it, this will include the complete adventure, maps, items, and a slew of other content for DMs to use to not only enhance the story but bring it to live on a new level. Their previous sets have been absolutely awesome and we can only imagine this one will be just as amazing. The set is available for pre-order now for $499, and will ship in October 2020. You can read more about it below in the intro from B&G. What's more, we have a trailer for you below for their new Map Vault, which contains dozens of maps for locations in the D&D universe, including towns, ships, dungeons, and more.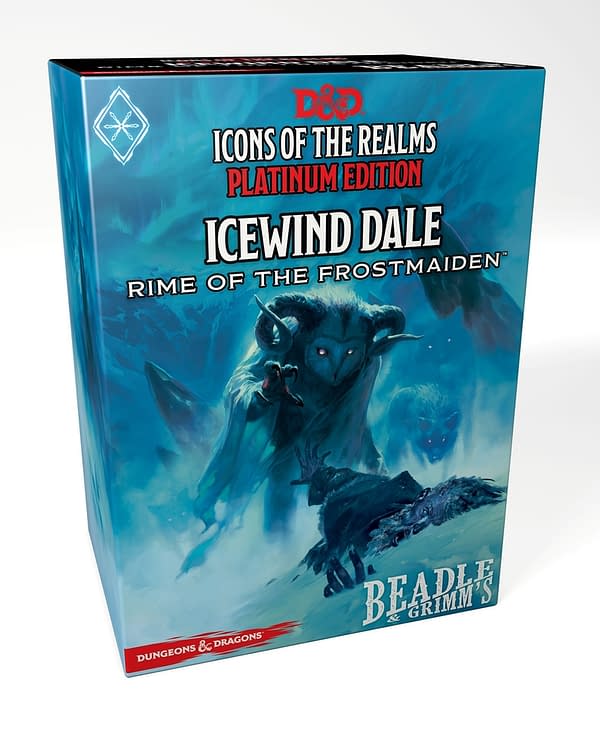 Produced by B&G under an arrangement with Wizards of the Coast, our Platinum, Gold and Silver Edition boxes take official D&D adventures to a whole new level. Each box is packed with all the elements a Dungeon Master needs to create an amazing experience for their players. Whether you're a lifelong gamer or an enthusiastic newbie, the Special Editions are a must-have for creating the ultimate tabletop experience.

This is not a rational choice. Let's get that out of the way right now. But was it a rational choice when you leapt on Dragotha's back? When you dove into the maw of a Purple Worm to save your friend? When you stabbed Xanathar in his third-favorite eye stalk? Of course not. In fact, I'll make a bet with you. I'll bet that most of your best memories, both around a table and otherwise, were the result of irrational choices. Choices you made with your heart first, and everything else could just tag along for the ride. That's us. In a nutshell. That's us. We will take you from "holy cow I can't believe I spent that much money" to "holy cow that was epic" faster than Xanathar did horrible, horrible things to you with that eyestalk.

We are Beadle & Grimm's. We sell irrational choices. Belly up.
Enjoyed this article? Share it!