Bethesda Surprises Players With All-New Hi-Fi Rush Release
Out of the blue, Bethesda Softworks not only announced abrand new rhythm game in Hi-Fi Rush, but released it the same day.
---
Bethesda Softworks surprised everyone yesterday as they not only announced Hi-Fi Rush, but released it the same day for PC and Xbox. The game is an action title in which you'll need to follow the rhythm, as everything you do is dictated by the beat of the music. From the enemy combat, all the way to the way the trees sway in the breeze. All of the game's sequences perfectly align with the music, which works out great if you like any of the music they use in the game, as you have several popular rock bands over the years as the backing soundtrack. We got more info on it below and the trailer as you can get the game right now.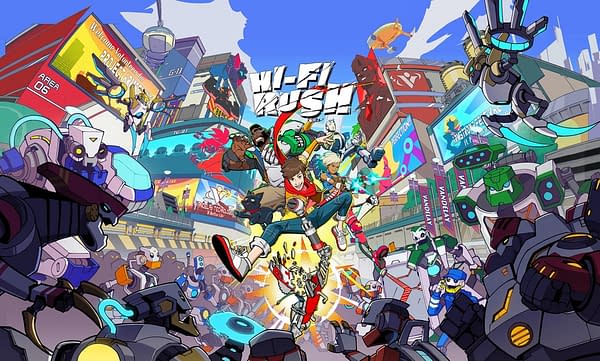 "Everything in Hi-Fi Rush automatically syncs to the music, from swinging your trusty "axe" to dodging out of the way of an oversized metallic fist. The game isn't locked to the music track, however – Hi-Fi Rush is rhythm-action with the emphasis on "action." Players must feel the rhythm to enhance Chai's actions, pulling off heavy Beat Hits at the end of a combo like a cymbal crash, or syncing up with one of his allies for a devastating tag-team finisher. In Hi-Fi Rush, every battle is an opportunity to play out your own music video fantasy, seamlessly coordinating all your moves with the soundtrack."
"The maladjusted megacorp after Chai would sooner swallow nails than let a single supposed defect ruin their bottom line. With the help of some newfound allies, however, Chai may just have what it takes to rumble his way up the corporate ladder, with each department culminating in a cinematic face-off with its boss – complete with their own musical track! HFR Kale Korsica in-body Speaking of music, Hi-Fi Rush features a killer mixtape of both licensed and original songs to tap your toes (or if you prefer, bang your head) to, each synced to their own levels in the game. Worried about playing licensed music during a stream? Fret not: Hi-Fi Rush includes a streamer-friendly alternate audio mode which replaces those licensed songs with original tracks made especially for streaming Hi-Fi Rush."