Black Desert Mobile Reveals More Info On Igneous Character
There's a new character on the way for Black Desert Mobile, as Pearl Abyss will be introducing Igneous to the game.
---
Pearl Abyss revealed new info on the incoming wizard character for Black Desert Mobile as we got a better look at the Igneous. The team provided a complete introduction to the character on their website today, along with a pair of new trailers showing them off in action as they bring a bit of magic and sorcery to the mix. The new class will be added to the game later this month, but for now, check them out in action below.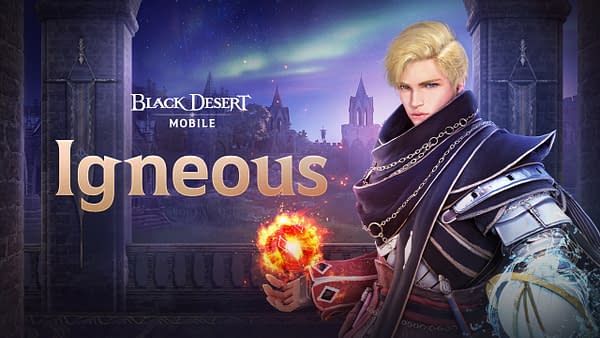 "The Godr-Ayed Thea was an elite group of wizards centered around three young men. Through them, the sages began their mysterious quest for the primordial knowledge of the first elements, said to contain the universe and all other possible matters of research, which would quench their thirst for knowledge. Among the three, the one called Lord Red was the brightest of them all, both in and out of the Godr-Ayed Thea. His skills as a researcher and wizard were the subject of envy among all other sages. He was always one step ahead of his group. He took pride in his position, and his leadership was instrumental in the perfection of the Godr-Ayed Thea's research. Igneous uses the elemental powers received from Marg, the Fire Guardian, and Arne, the Water Guardian, to cast powerful area-of-effect attacks. He specializes in slow yet powerful attacks that can devastate enemy lines, making him most effective in large-scale battles and groups as opposed to 1v1."
Aqua Jail Explosion: Igneous creates a barrier made of ice-cold water, trapping and overwhelming his foes with a powerful explosion.
Calamity: Igneous unleashes his rage onto a wide area with burning flames, dealing damage over time.
Bolide of Destruction: Igneous summons a powerful fireball and hurls it to the ground, knocking down enemies. Combine with Flow: Bolide of Cataclysm to increase the size of the fireball and inflict damage in a larger area.
Sage's Rage: Igneous protects himself with elemental resistance, increasing his power in water and fire elements.