Black Desert Online Reveals 2023 Valentine's Day Events
Looking for a spark of love out in the middle of Black Desert Online? Pearl Abyss has what you need with Valentine's Day stuff to do.
---
Pearl Abyss dropped new details this morning for the Black Desert Online Valentine's Day festivities, which are kicking off today. The team has released a slew of details about what they have cooking over the next few weeks, as they have several events for you to dive into, items to collect, experiences to take in, and much more. Maybe even finding a little love in the process? Well… maybe not. Not to mention the relaunch of the Node War, taking place on YouTube. We got all of the dev notes for you down below on everything they got going on.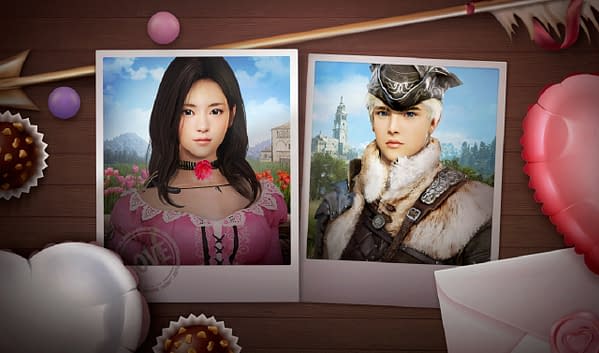 Catch the Chocolate Thief: A goblin has stolen your chocolate! Catch the goblin in monster zones and take back the "Chocolate Basket", which can be opened for a chance to obtain various items including Cron Stone x100 and Item Collection Increase Scroll. These items can be used in Black Desert Online for a variety of activities, including gear enhancement.
Make Chocolate with Love: Follow a series of in-game activities and challenges to obtain the ingredients for making the "Chocolates Full O' Love" for the NPCs in Velia: Santo Manzi, Crio, and Bahar. Those who reach more than 1,000 Amity points with these NPCs will be compensated with special support rewards that vary depending on the NPC.
Send a Love Letter: Send a Valentine's love letter to your fellow Adventurer to whom you're grateful. The recipient will receive a Sweet Gift in their mail that comprises a Sweet Chest, a Sweet Reply, and a Dark Chocolate. The Sweet Chest can be opened to randomly obtain a reward, such as Advice of Valks and an Extra Mount EXP Scroll. By using the Sweet Reply item, Adventurers can return a love letter to the sender. Using a Dark Chocolate item will grant players Energy Recovery +20.
"During the Valentine's Day event period, players will benefit from a 50% increased rate of item drops in some monster zones, and treasure items can also be obtained in a variety of extra monster zones. In addition, players can enjoy the 500% Combat EXP, 50% Skill EXP, and 50% Mount EXP increase until the regular maintenance begins on Wednesday, February 15. Last but not least, Pearl Abyss will host a special Valentine Day's quiz show with official Black Desert partners, which will be livestreamed on the official
Twitch channel
on Tuesday, February 14 at 11:00 (PST). In this quiz show, partners will compete to win the heart of one of the community managers of
Black Desert Online
and the audience can expect to receive fun event items to celebrate Valentine's Day."
Enlist In The New & Improved Node War
"Now that you're full of Valentine's love, it's time to prepare for a large-scale, team-based war! Join our community leaders and partners as they release a set of YouTube videos detailing how the revamped
Black Desert Online
Node War feature has returned to its roots with more flexible rules and options, based on player feedback. Starting this Friday, February 10th, on our
YouTube channel
, new and veteran Adventurers will learn how the development team has re-imagined the Node Wars with new rules and more flexible battle options, based on player feedback."
Friday, February 10: Introduction to Node War: What is the Node War? How does it work? What's changed with the revamp?
Monday, February 13: How to Set Up Your Buffs: Prepare for large-scale war with specialized buffs, stats, and gear.
Friday, February 17: The Phases of War: What are the different phases of Node Wars, and what roles will you play on your team?
Friday, February 24: Diplomacy: Once you're won or lost, how do you proceed, settle the score, and understand the results?