Pearl Abyss has officially brought out the Ninja character class to Black Desert today, along with some new skills and features to the console version. This is like having a monk character with a bit more stealth on your side as you can hide in plain sight and strike quickly, while also debuffing your targets. But this is not an easy class to play as you'll need to master several skills to make it click without tripping over yourself. You can read more about the Ninja here. The devs have also added Marni Stones and other updates to the game, which you can read a bit more about the patch update here and below. Plus, check out the Ninja trailer before you dive into the stealthy armor.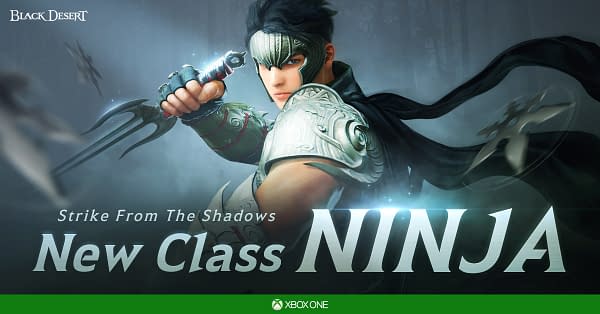 Leveling up past 58 can be an incredibly daunting and time consuming task. To make leveling up easier, we are introducing Marni Stones to Black Desert. These stones can be purchased with silver from Wacky Toshi, an NPC that appears in various locations. Marni stones collect samples of creatures as you kill them, and Wacky Toshi rewards those who collect enough samples with extra combat experience.

All Marni Stones are specific to a set of enemies, and will only increase their progress when these monsters are killed. You can have as many Marni Stones as you like in your inventory, however the stones will not progress simultaneously. Marni Stones that are fresh are displayed in yellow, stones in progress appear as blue, and filled stones are orange. You can also see a stone is full when the kill count has turned red.

Tier 1 Marni Stones are 60,000 silver and require 250 kills to complete, while Tier 2 Marni Stones are 110,000 silver and require 500 kills to complete. To track your progress while completing the stones, press A which will add a new tab on your quest window that shows how far you are at completing the stone. After you have filled up your stones, exchange them with Wacky Toshi for your additional combat experience.
Enjoyed this article? Share it!