Call Of Dragons Receives An Official Late-March Release Date
Farlight Games revealed an all-new trailer today for Call Of Dragons, confirming the game will be released near the end of March.
---
Farlight Games confirmed this morning that they have an official release date for Call Of Dragons, coming to both PC and mobile platforms. The news comes with a brand new trailer, in which you're given about 90 seconds of a guided tour of the game, showing off different gameplay aspects and what you'll encounter in both versions. Enjoy the trailer down at the bottom as the game will be coming out on March 28th, 2023.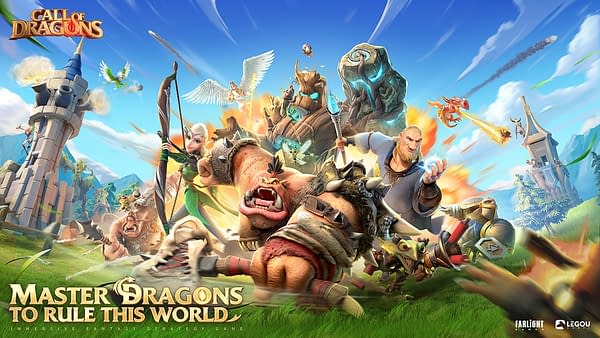 "Call Of Dragons is a love letter to the kinds of classic fantasy games the development team grew up playing. But while it's a fantasy game through and through, it's designed to be incredibly realistic, with multi-civilization battlegrounds and a 3D map that is 3.88 million square kilometers and filled with diverse biomes and types of terrain. The colorful characters you take into every fight, and their positions in the field will determine who has the upper hand…fire-breathing beast in tow or not. Encounter gigantic Behemoths throughout the land of Tamaris, such as the Giant Bear, where you'll need to utilize your skills obtained, and tame wild beasts to fight on your side."
"You'll need to deploy strategic movement of their legions, along with careful consideration of when the Healing Manastone's drop! Once you've captured the Giant Bear and other wild Behemoths, they'll add bonuses to aspects such as research, construction, and gathering, as well as having the ability to call on them during battle. The Giant Bear is not the only Behemoth you'll encounter throughout the world, and while it may have seemed easier to tame it during the trailer, other beats, such as wild Hydras, Thunder Rocs, and terrifying Dragons, are sure to keep you on your toes — and if you can manage to tame them — give you the upper hand on the battlefield."