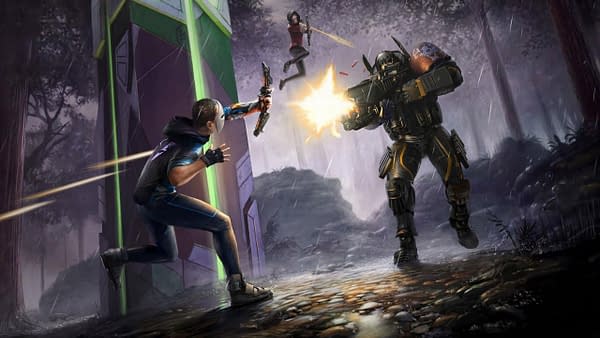 During the ID@Xbox PAX West showcase, we got a chance to swing by and check in with Behaviour Interactive and Deathgarden. The demo build available at PAX this weekend is a newer, smoother version than we saw in the last test phase. That said, many of the game basics are the same, and they won't be changing soon. If you find the game to be brutal and unplayable, that might not be news that you want.
Lead Game Designer Steve Hamer believes that the game balance between the Hunter and Runners is perfectly balanced. Hamer has looked at the data and argues that the win-loss ratio for hunters vs. runners is evenly split.
"The Hunter starts off powerful, but the Runners become powerful," Hamer commented. "They scale upwards, so if he [the Hunter] doesn't end things quickly, it's to his disadvantage." However, attrition does affect the Runners much more steeply as the game goes on. So there is quite a bit of internal balance. The problem players have right now is the lack of matchmaking. Behaviour didn't add a real matchmaking system into Deathgarden's test build "in order to get games going as quickly as possible." So the problem is that new players will get matched with experienced players and therefore might feel completely out of their depth.
The good news is that the game will get a matchmaking system that pairs new players with other new players and veterans with veterans, and matchmaking improvements are rolling out come September.
However, the Hunter will remain invincible, so if you were hoping for a nerfstick there, you are sadly out of luck. Without the Hunter's invincibility, "some Runners, especially new groups, would spend their time killing the Hunter, and that's not what we wanted." So to get the right asymmetrical capture-the-flag mechanics, Hamer and his team made the Hunter unkillable. And the imbalance works. The new build of the game available at the Xbox showcase was smooth and fun as hell.
If you want to know what's coming in the next four months for Deathgarden, the development team released a brand-new dev roadmap today on Twitter, which you can check out below.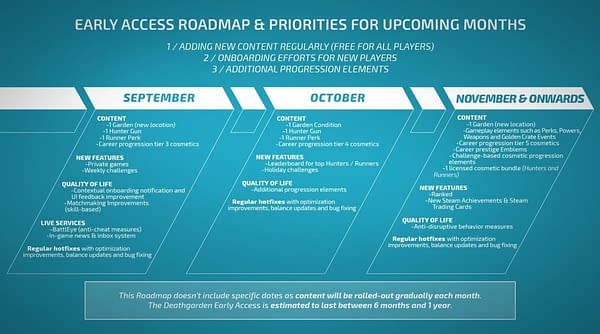 Enjoyed this article? Share it!