The folks over at Infinity Ward put out one last update to Call Of Duty: Modern Warfare before dashing off for the holidays, including a new playlist. Right now you can play Shoot The Ship, which is all shoot House and Shipment, all the time, if that's all you really want to do for a few days. They've added a Snowfight mode (which replaced Cranked), and Drop Zone (which replaced Infected, but it got moved to Quick Play). Plus the next few days have 2x-XP and 2x Tiers for you to take advantage of. Basically, if you're not working the holiday, there's plenty of stuff to keep you occupied in Call Of Duty: Modern Warfare. Here's a quick rundown of some of the other updates.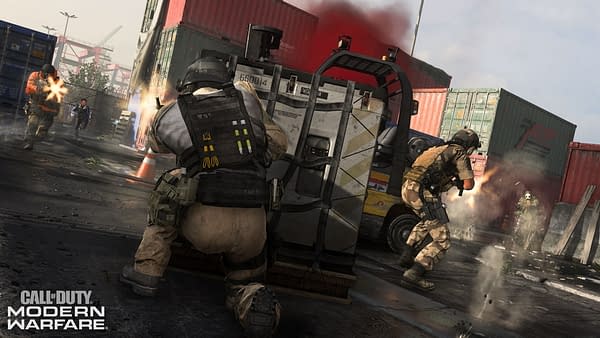 General:

·      Fix for a bug where players were unable to swap Field Upgrades after selecting Field upgrade Pro

·      Added a new menu that allows players to launch a specific Trial

·      Friend Request & Party Invite Notifications options will be set to enabled by default. Players can disable that option through the Account tab of the Options menu

·      Fixed an issue where Care Packages could fall through the roof of various buildings in Port

Audio

·      Footsteps: reduced audible range of 3rd person footsteps

·      Increased occlusion on footsteps

·      Adjusted various foley sounds that played at a larger range than footsteps during ADS/crouch movements

Special Ops

·      Added the reward players could earn if completing an Operation within the playlist menu

·      Fix for rank up UI splashes not working as intended

Call of Duty League

·      Adjustment to spawns for Hardpoint

·      Reduced lethality of non-car explosives
Enjoyed this article? Share it!