Posted in: Card Games, Games, Pokémon TCG, Tabletop | Tagged: pokemon, pokemon cards, Pokemon TCG, Sword & Shield, Yuka Morii
---
Pokémon Trading Card Game Artist Spotlight: Yuka Morii Modern
Our Pokémon Trading Card Game Artist Spotlight series continues with the series on clay artist Yuka Morii moving to the modern era.
---
Throughout the years, the Pokémon Trading Card Game has featured a variety of incredible art styles. Now that the hobby has been around for more than a quarter of a century, we have seen the artwork of Pokémon TCG cards elevated by daring new artist choices as well as illustrators who have been veteran contributors since the very first releases. Let's take a journey through the eye-popping, mind-expanding history of Pokémon TCG artwork by exploring some of the hobby's most interesting and unique artists. Today, we will continue our ongoing Yuka Morii spotlight. Because Morii has been contributing to the hobby since the Wizards of the Coast era, we will break this Spotlight into a three-part series covering her Vintage, Classic, and Modern contributions. Today, we conclude with Morii's classic work.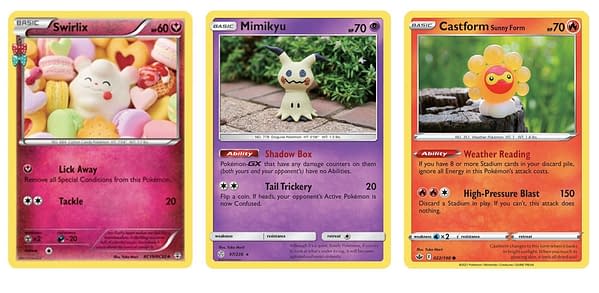 First, if you missed the first two parts of this series dedicated to Pokémon TCG's iconic clay artist, you can read those first at Bleeding Cool. Check out Yuka Morii's vintage work here and her classic work here.
The modern era has seen Yuka Morii continue to perfect her clay sculptures while also dramatically increasing the beauty of her backgrounds. Though each of her cards are special in their own right, I pulled one from each of the most recent generations to show the wide variety in the vibes she creates. Here we have Swirlix from the special XY-era special set, Generations; Mimikyu from Sun & Moon – Cosmic Eclipse; and Sunny Form Castform from Sword & Shield – Chilling Reign.
Notably, each lay figure also has a different texture. Swirlix seems more matte to evoke its fluff, while Mimikyu has more of a sheen to it, like most of Morii's clay creations. Finally, the coloring used on Sunny Form Castform's glowing head makes it seem like light is shining through it.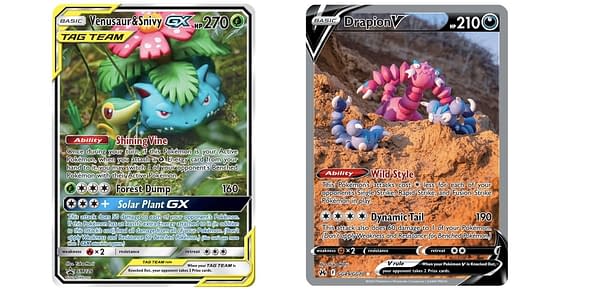 The most interesting element of Yuka Morii's work during the modern era is seeing her expand into larger images as the Pokémon TCG introduces new card types. We have seen Morii do this twice now, with Venusaur & Snivy GX Alternate Art which was released as an SM Black Star Promo and the Drapion V Special Illustration Rare from Crown Zenith. These are just the first of hopefully many times we will see the hobby allow Morii the room to flex her incredible artistry.
Be sure to check Bleeding Cool every day to follow our in-depth Pokémon TCG coverage as we explore the hobby's past, present, and even future with upcoming set reveals.
---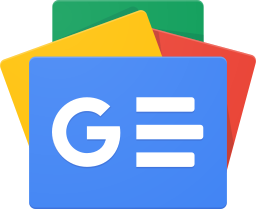 Stay up-to-date and support the site by following Bleeding Cool on Google News today!