Critical Role Will Complete Campaign Two This Thursday
The cast of Critical Role will be bringing a close to their second Dungeons & Dragons campaign this Thursday night after three and a half years. After concluding their first campaign in the Fall of 2017, the cast came back to another adventure (DM'd by Matthew Mercer) in January 2018. For the past three and a half years they have been telling a new D&D story with the characters who make up the new adventure group The Mighty Nein. That story has been winding down the past few months with their last story arc as they prevent the world's destruction while trying to save a fallen friend.
The conclusion of that tale will be taking place this Thursday, June 3rd, at 7pm PT on Twitch and YouTube, as they bring about the final leg of their journey. The episode will be just over seven hours long as they will be wrapping up a few loose threads and essentially saying goodbye. Well, at least, for now, as we're sure the cast will be returning for a third campaign, and much like the first campaign, we expect them to do special one-off episodes for special stories for these characters. We have more details about the adventure below. For the hardcore fans who want to hear more about the campaign, there will be a final wrap-up edition of Talks Machina hosted by Brian Foster on Thursday, June 17th at 7pm PT.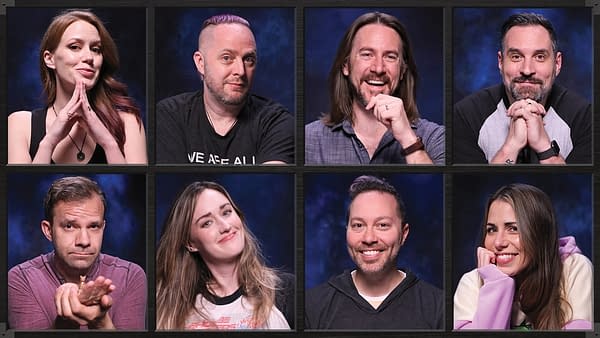 Since the launch of the campaign on January 11, 2018, Critical Role has chronicled the story of Jester Lavorre (Laura Bailey), Yasha Nydoorin (Ashley Johnson), Caleb Widogast (Liam O'Brien), Beauregard "Beau" Lionett (Marisha Ray), Nott the Brave/Veth Brenatto (Sam Riegel), Fjord (Travis Willingham), Mollymauk "Molly" Tealeaf and Caduceus Clay (both played by Taliesin Jaffe) of The Mighty Nein as they explored Wildemount, formed relationships, spat in the face of death and buried allies, realized that not all goblins are as they seem, discovered the power a friendly cupcake (sprinkled with some Dust of Deliciousness) can have in befriending powerful foes, and showcased the resiliency one can have in the face of insurmountable odds time and time again.

Experience the final chapter of The Mighty Nein as Critical Role concludes the legend of this ragtag group of miscreants that millions across the globe have come to know and love. How will their journey end and what's next from the world of Critical Role? Tune in to find out!