Daybreak Games Adds Atlantis Event into DC Universe Online
A few months ago we mentioned that Daybreak Games was going to add Atlantis to DC Universe Online. After four months of waiting, we finally have it. You'll dive deep underwater to the legendary kingdom and deal with many of Aquaman's allies and foes in a battle for the kingdom and its crown. Enjoy the new event, of which we have details and a trailer for you here.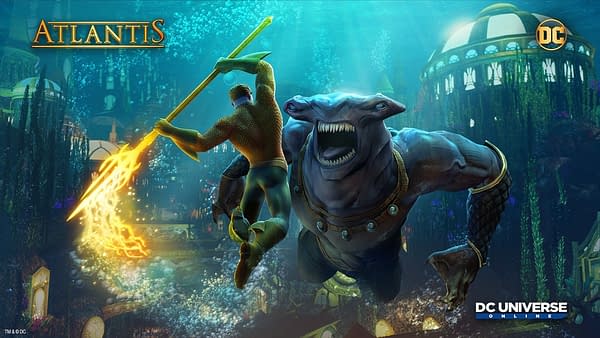 In the episode, Corum Rath has set his sights on the Throne and has plotted a rebellion with his Deluge conspirators which climaxes in a dire battle for the Crown. Key features include:

Vast Underwater World – For the first time ever, players will be able to visit and explore the underwater Kingdom of Atlantis. Everything from swimming, combat, and lighting has been re-imagined for a fully submerged environment. Swim through the ocean and explore everything Atlantis has to offer.
New Missions – Travel throughout Atlantis including the Throne Room, the city streets and more to take on dangerous missions and fight deadly foes.
New Raids – Fight for the Crown of Thorns, challenge Corum Rath, or take on a massive sea monster in these new raids that are only available in Atlantis.