Dead End Job is a Ren and Stimpy Style Bullethell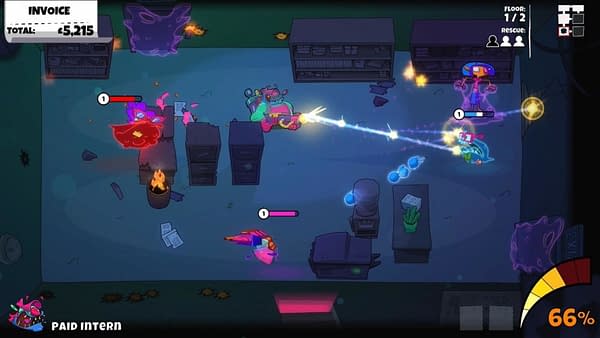 Dead End Job combined the chaotic gameplay of a procedurally generated twin-stick shooter with graphics reminiscent of 90s cartoon Ren and Stimpy.
Players take on the role of Hector Plasm, paranormal exterminator, and use his trusty vacuum pack to suck up ghosts after shooting them with a plasma blaster. While Hector is an expert in his field, he is haunted by the ghost of his former partner.
The stakes of the game are pretty high, despite the comedic tone that permeates the art direction and dialogue. Hector needs to level up his ghost busting skills to save his partner's soul or be forced to spend eternity as a ghost.
Dead End Job boasts drop-in/drop-out shared screen co-op, with the second player taking on the role of Hector's mentor, and Twitch integration that allows viewers to help or hinder the streamer by choosing power-ups. The whole thing adds up to a surprisingly entertaining adventure, depsite the heavy influence of what is, at best, a nauseating cartoon. The twin-stick controls and gameplay absolutely fit with the ghost busting premise and are surprisingly intuitive to control.
Essentially, Dead End Job takes the best of Ren and Stimpy and marries it with engaging gameplay. That said, the humor is rather on-par, so do be warned.