With Death Stranding on the way in a matter of weeks, it stands to reason some info is going to leak. Because that's normally how these things go. The game makes its way out into the world, journalists and influencers get their hands on it, and people end up talking out of turn about something. It's not usually on purpose, but stuff usually does come out. Well, one of the actors from the game has made a plea to everyone to not let that happen.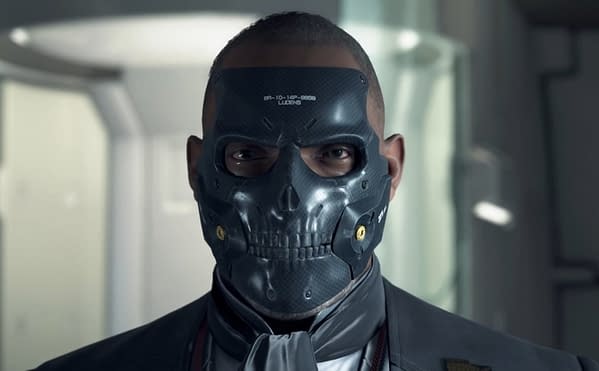 Tommie Earl Jenkins, who plays Die-Hardman in Death Stranding took to his Twitter account to put out this plea to gaming journalists and others who manage to get a copy. Politely asking that everyone keep things spoiler-free until the game comes out and people have a chance to play it. And to the fans who are looking forward to it, to avoid anyone they know might be playing it.
A request for what it's worth. If you have copies of #DEATHSTRANDING for review please don't spoil it for others who are still waiting patiently to experience it. They want to enjoy it the same way you did. Let's connect and respect ✊🏾 #DeathStranding #diehardman 💀🔥🤘🏾#TIIYH 😉 pic.twitter.com/dmFH3CYqLP

— Tommie Earl Jenkins (@teejaye84) October 16, 2019
I suggest to any #DeathStranding fans! I know you are excited and waiting patiently for the game to drop. Me too! But maybe STAY OFF SOCIAL MEDIA until November 1 There are likely to be spoilers and some people just can't help but spoil it for others. #DieHardman Love 🖤💀🤘🏾😉 pic.twitter.com/VhGiz2SzBe

— Tommie Earl Jenkins (@teejaye84) October 17, 2019
To Jenkins, Kojima, and anyone else involved with the game. If you're reading this, I would say… Don't worry about it. Sony didn't even send us, or the vast majority of websites who work in games journalism a copy. Only a select few whom they choose to do business with. So if it does get leaked, it won't be hard to figure out who did it and why. But if you'd like a proper review of the game from people who can keep a secret, feel free to contact us.
Enjoyed this article? Share it!