It's been reported that Capcom's upcoming Devil May Cry 5 is 75% of the way to completion.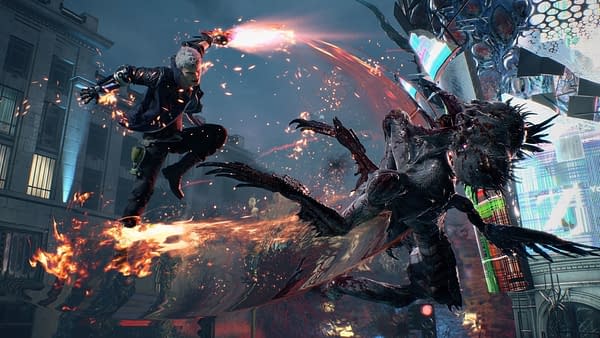 Devil May Cry 5 was one of the most eye-catching things at Microsoft's press conference at E3, which is saying something as that conference was full of eye-catching things. The sheer speed and vigour that the announcement trailer showed off were instantly attention-grabbing, with Nero really taking the fight to the demons. It really did announce the series as back and something to be paying attention to.
While we have no solid date for the game yet past 'Spring 2019', here is something that is a little encouraging. According to Famitsu (via WCCFTech), the game is already well into production. The Japanese magazine said that development on the game is already at 75% done. Now, breaking down a game's production into a strict percentage estimate is always going to be tricky, but still, it is good to know the game has progressed pretty far and is on target to meet its target window.
More than that, the report gave some details about the story, saying that Nero and Dante are facing their toughest challenge yet all spawning from some strange goings on in the Demon world. Nero is also going to have to 'reclaim' something from said, but it's not clear as to what yet.
Despite not being a Devil May Cry guy, the announcement of the game and the idea of getting back into a great hack and slash (which are in short supply nowadays) really have me salivating. Hopefully, we get a better idea of the story and a harder date coming at Gamescom.
Enjoyed this article? Share it!