With the next DLC for Warframe coming out this week, Digital Extremes decided to reveal a little more info about the content for Fortuna today. Along with a new faction and combat systems to be added, the company went a little more in-depth over what the world is like that they're adding so that you have a sense of what kind of surroundings you'll be dealing with.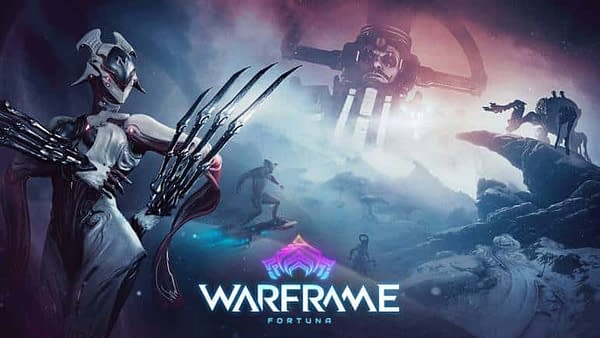 Get Wicked on the K-Drive — Blast across the wide open Venusian landscape on the Bondi K-Drive. Warframe's new means of locomotion instantly turns transportation into extreme recreation. Get in touch with the Solaris United's youth movement — the Ventkids — to earn Standing to upgrade and customize your board to the next level (including K-Drive Mods!). Experiment with grabs, spins, rails and more. Learn how to use your board in combat: players can dismount mid-air, pull out weapons, blast Corpus thugs, and remount in air for extra points! Just like in Plains of Eidolon, players can access their Archwing to get a bird's eye view and fly across the Orb Vallis!
The New Faction, Solaris United — The cyborg Faction Solaris United live in the Blade-Runner-esque debt-internment colony, Fortuna. Similar to the gathering bazaars of Cetus in Plains of Eidolon, Fortuna is an underground hub city that serves as a factory to clean coolant rivers and doubles as a trading hub for the region. Underneath the facade of harmony and unified labor, however, discontent runs deep. Dig into the faction's stories, learn about the plight of The Business, Eudico, Rude Zuud, the Ventkids, and others, and help them fight their oppressors.
Fortuna and The Orb Vallis — The Fortuna expansion takes place underground and above ground, comprising the underground Colony of Fortuna and the surface landscape of The Orb Vallis. Fortuna is a hub city similar to Cetus in Plains of Eidolon, where players can socialize and pick up bounties and missions from the local Solaris denizens. The surface world of The Orb Vallis is an exotic terrain blanketed with Orokin structures, towering mushroom forests, oceanic flora, and endangered native creatures.
New Combat and Enemy Alert System — The Corpus occupiers, led by the profit-obsessed Nef Anyo, bring new technology, weapons, systems, and warriors to bear. The game's four quadrants, bases of enemy operations, are patrolled by giant robo-spiders, while mid- and small-size robot spiders appear across the giant terrain. Players will be prompted to liberate Corpus bases for rewards and can even enter their underground bases. They're not small! Alongside new Corpus ground troop variants and new kinds of bounties, a new Danger Rating system challenges players to escape or double down.
Enjoyed this article? Share it!