Dokapon Kingdom: Connect Confirmed For Release This Spring
Idea Factory confirmed that their upcoming game Dokapon Kingdom: Connect will be coming out sometime this Spring for Switch.
---
Developer and publisher Idea Factory confirmed that they will be releasing Dokapon Kingdom: Connect for Nintendo Switch this Spring. The game works like a bit of a board game for up to four players, where gambling is used as a mechanic to help defeat enemies in this RPG. (No, there's no real money used, it's all in-game.) You'll have to gather your team together to take out bosses around the board as you randomly land on spaces trying to defeat everything that's taken over the kingdom and its money. You can check out the trailer below while we wait for a real release date.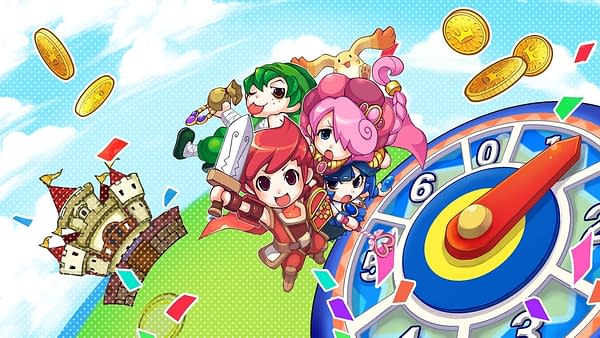 Everyone in Dokapon Kingdom loves money. One day in this peaceful land, monsters suddenly appeared and began attacking nearby towns. The economy collapsed, and people were at their lowest. Taxes were no longer being paid, of course. So that's when the King took action! He decided to gather the bravest warriors to rescue these towns so he can get paid! In exchange, the one who collects the most shall be rewarded with the Princess' hand in marriage and the throne. And thus, an adventure for money begins, where absolutely anything goes!
RPG & Board Game Lovers Unite… AGAIN! – Originally released for the PlayStation®2 and the Nintendo Wii, the hybrid party board game is now back for the Nintendo Switch! The game is simple: spin the roulette and defeat whoever stands your way!
Connect With Your Best Frenemies Online – Holding a grudge never felt so good! Players can now duke it out against their friends via Nintendo Switch Online!
5 Game Modes & A Massive Game Board! – Plot your revenge and choose from 5 different game modes: Normal, Story, Shopping Race, Kill Race, and Town Race. With a kingdom spanning seven continents, who knows what shenanigans you'll get into!
Outwit Your Foes With 11 Possible Job Classes – Wanna slash your way through the Dokapon Kingdom? Choose the Warrior! Interested in conjuring flashy spells? Pick the Magician! Choose from 11 job classes and earn experience points to level up your character! Purchase or even steal items and use them to your advantage!